Stronger Together
---
A Guidebook for the Safe Reopening of California's Public Schools
Coronavirus (COVID-19) Main Web Page
This guidance was created through the statewide reopening schools task force that fostered a collaborative process for our educators and stakeholders to lend their important voices. Also informed by the technical assistance and advice of many health and safety organizations including the Centers for Disease Control, California Department of Public Health, California Division of Occupational Safety and Health, the intent of this document is to be a guide for the local discussion on safely reopening schools.
Stronger Together Guidebook Video Overview
Single Document Version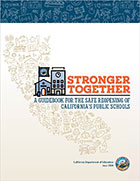 Stronger Together:
A Guidebook for the Safe Reopening of California's Public Schools
(PDF; 5MB; Updated 5-May-2021)




Web Version
Table of Contents
Last Reviewed: Friday, May 28, 2021
Recently Posted in Health
No items posted in the last 60 days.