Career and Technical Education Month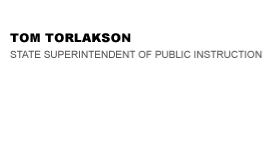 California Department of Education
Official Letter
California Department of Education
Official Letter
Dear County and District Superintendents:
JOIN THE CELEBRATION FOR CAREER AND TECHNICAL EDUCATION MONTH AND OUR CAREER READINESS CAMPAIGN
As you know, career technical education (CTE) is a powerful motivator for California's young people and a valuable part of California's economy. When students can see a pathway from classrooms to careers, they are much more likely to graduate high school with the skills and experience they need to succeed and to help our businesses succeed. That is a story we should tell, and I hope you will join me and the California Department of Education (CDE) in doing just that in February 2013, when we celebrate Career and Technical Education Month. We want you to highlight your efforts and success stories for the public, key stakeholders, and the local media.
The CDE plans to coordinate a series of events supporting CTE and my Career Readiness Initiative in Sacramento and throughout the state over the coming year. Raising the public's awareness of the value of CTE programs is even more critical in these economically challenging times.
A few of the activities you could engage in include open houses, local business forums, legislative briefings, program tours, fact sheet mailings, and press visits. You may also consider providing presentations to your local Parent Teacher Association, your district school board and administration, and civic and business groups.
In promoting your local programs, you may want to focus on a few key points about your CTE efforts, including how they:
Positively impact career and college readiness.
Improve graduation rates.
Provide a tangible benefit to the state workforce and economy.
Here are some things to think about in preparing your events:
Who will participate? Include your decision makers, partners, youth, families, teachers, business leaders, and members of local print and broadcast media.


What will your publicity activities include? Consider including student portfolios or CTE projects or tours of your classrooms ' CTE activities. Remember to include student testimonials of success. Also, include key partners, such as local businesses, that may have invested in the success of your programs.


Where will the activities take place? Consider using your own classrooms, nearby facilities, or participating businesses to best illustrate what CTE is all about.


When will your activities take place? CTE Month is a great time to maximize the attention you can receive for your local efforts. You may also choose to have multiple activities throughout the year in support of CTE.


Why is this important? Because students who can relate their schoolwork to future careers are more engaged to learn, more energized to move on with their coursework after high school, and more invested in their futures.
How will you promote your activities and support these public awareness efforts? You may want to send out postcards, contact legislators, or make presentations.
Bookmark the links below and check back for updates to take advantage of existing materials and suggestions:
The Association for Career and Technical Education's Career and Technical Education Month Web page at http://www.acteonline.org/ctemonth.aspx [Note: the preceding link is no longer valid]
The National Association of State Directors of CTE Consortium's CTE Brand Initiative Web page at http://www.careertech.org/resources/promo-materials.html [Note: the preceding link is no longer valid]
If you are planning activities or if you have any questions, please contact Tom Mays, Staff Services Manager, Career and College Transition Division, by e-mail at tmays@cde.ca.gov [Note: the preceding contact information is no longer valid.] so the CDE can publicize these great achievements statewide. The CDE may also share your stories on the California CTE Twitter account at https://twitter.com/CaliforniaCTE and the California CTE Facebook Web page at https://www.facebook.com/pages/California-CTE/350885248257044?fref=ts [Note: the preceding link is no longer valid].
I look forward to working with all of you to get the word out about what CTE means to our students and our state.
Sincerely,
Tom Torlakson
TT:pa
2012-08713
Last Reviewed: Thursday, October 12, 2017
Recently Posted in Editorials & Letters