SB 70 Governor's Initiative on CTE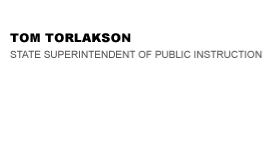 California Department of Education
Official Letter
California Department of Education
Official Letter
April 12, 2011
Dear County and District Superintendents and Charter School Administrators:
2010–11 SENATE BILL 70 MIDDLE GRADES CAREER TECHNICAL EDUCATION
AND CAREER PATHWAYS GRANT PROGRAM
The California Department of Education (CDE) is pleased to announce the availability of $1.8 million in funds for the purpose of starting or improving articulated career exploration and career technical education classes and supports to students enrolled in eighth grade. This funding opportunity is provided through the Governor's Initiative on Career Technical Education (SB 70) and is available for up to 20 grants.
Application materials are available on the CDE Available Funding Web page at http://www.cde.ca.gov/fg/fo/af/.
Please follow the guidelines below when responding to the Request for Application (RFA):
Eligible applicants are school districts, county offices of education, and charter schools serving at least grades eight through twelve.


Grant funds must be used for the preparation and implementation of career pathways planning including career technical education classes for grade eight beginning either the fall or the spring semester of 2011–12.


Programs meeting these characteristics and requirements may apply for $100,000 to $150,000 in grant funding.
If you have any questions regarding this RFA, please contact David Militzer, Education Programs Consultant, Middle Grades Improvement Office, by phone at 916-323-5146 or by e-mail at dmilitzer@cde.ca.gov.
Sincerely,
Tom Torlakson
TT:er
cc: Middle Grades Principals
High School Principals
Last Reviewed: Wednesday, January 25, 2017
Recently Posted in Editorials & Letters