SBAC Mathematics Content Feedback Opportunity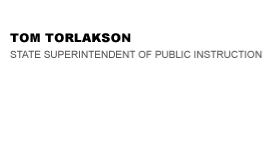 California Department of Education
Official Letter
California Department of Education
Official Letter
August 29, 2011
Dear County and District Superintendents and Charter School Administrators:
SMARTER BALANCED ASSESSMENT CONSORTIUM
MATHEMATICS CONTENT SPECIFICATIONS FEEDBACK OPPORTUNITY
I would like to extend another invitation for you to provide feedback on the draft specifications that will be used to inform test development for the SMARTER Balanced Assessment Consortium (SBAC).
In June 2011, Governor Jerry Brown, State Board President Michael Kirst, and I signed a Memorandum of Understanding for California to become a governing state for the SBAC, which brings states together to create an innovative assessment system for mathematics and English-language arts (ELA). Based on the Common Core State Standards (CCSS), SBAC released draft content specifications in mathematics for public comment and review from August 22–September 12, 2011.
Your voice matters in the development of our new state assessments. Please take advantage of this opportunity to provide feedback on the Mathematics Content Specifications. I also strongly encourage you to share this opportunity with other educators.
The press release, content specifications, user guide, and survey can be found on the SMARTER Balanced Web page at http://www.k12.wa.us/SMARTER/Resources.aspx [Note: the preceding Web site is now titled SMARTER Balanced Assessment Consortium and its Web address is http://www.smarterbalanced.org/.].
This is an exciting time for education in California and we look forward to working with you on this request and future opportunities that will arise for your involvement in the implementation of the SBAC assessments as well as the CCSS. If you have any questions regarding this subject, please contact Dr. Kristen Brown, Education Research and Evaluation Consultant, Assessment and Accountability Division, by phone at 916-319-0334 or by e-mail at kbrown@cde.ca.gov. [Note: the preceding contact information is no longer valid. Please contact the California Assessment of Student Performance and Progress (CAASPP) Office by phone at at 916-445-8765 or by e-mail at caasp@cde.ca.gov.].
Sincerely,

Tom Torlakson
TT:kb
cc: High School Principals
Last Reviewed: Monday, June 27, 2016
Recently Posted in Editorials & Letters