Schools Chief Urges President to Protect Education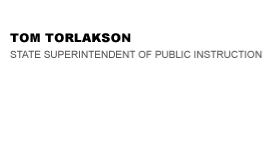 California Department of Education
Official Letter
California Department of Education
Official Letter
September 6, 2011
The Honorable Barack Obama
President of the United States
The White House
1600 Pennsylvania Avenue NW
Washington, DC 20500

Dear Mr. President:
I am writing today to thank you for your continued leadership to stimulate our recession-impacted economy. I want to take this opportunity to encourage you to protect education jobs and rebuild our school infrastructure in the plans you are developing to take "urgent action on the economic situation facing the American people."
As you may know, California's schools have been severely impacted by the $18 billion in budget cuts they have faced as a result of the economic crisis that began prior to your taking office.
In January 2011, during my first week as California's State Superintendent of Public Instruction, I declared that a "state of financial emergency" exists in our schools. Severe budget cuts have had a major impact on our students, parents, teachers, school employees, and principals, leading to increases in class sizes and the loss of critical student support services. It has also had a major negative impact on our state's economy.
The fiscal crisis facing California has led to the loss of tens of thousands of teaching and school employee jobs, despite the significant help your Administration provided through the American Recovery and Reinvestment Act (ARRA).
My top priority continues to be restoring and increasing California's investments in education, and I have pledged to redouble my efforts to engage every leader in this state in the urgent and critical task of once again providing our children with the resources they need.
You have an extraordinary opportunity to help reverse California's trends by announcing policies next week that would lead to the creation of desperately needed new jobs and begin rebuilding and modernizing our schools to meet 21st Century educational demands. Such an initiative could also advance much needed information-technology infrastructure and promote cutting-edge research opportunities in biotechnology, green technology, genetics, and similar areas.
I appreciate all of the ways California has already benefitted from the $7.5 billion in stimulus funding we have received for K-12 education. These funds supported over 2,000 local education agencies and organizations, and have saved tens of thousands of jobs each quarter. Education leaders across the state are bracing themselves for the end of this critical support because our state-wide fiscal emergency continues.
Programs to invest in employing teachers and school employees, similar to the funding provided by ARRA and the Education Jobs and Medicaid Assistance (Ed Jobs) Act, will provide immediate benefits to our students. The creation and protection of these high- quality jobs will also help our economy recover more quickly.
Investing in needed school facilities represents an investment both in immediate job creation and our future workforce. Research has consistently shown that students' academic performance increases when the schools they attend are clean, well maintained, and possess the instructional tools to support a 21st Century learning environment. Studies also show that student attendance rates increase when students know their school leaders and their communities are willing to invest in quality school facilities.
Despite recent state investments in school construction and modernization, approximately 30 percent of California school buildings are 50 years old or older. For example, the average age of the public school buildings in the Los Angeles Unified School District, even after more than 130 new schools were built and opened within the past decade, is still 41 years.
The need to renovate, repair, and upgrade our aging school buildings is critical to ensure all of our students have the opportunity to receive a first-class education and allow them to best compete in the global economy.
Investing in capital renewals in existing buildings will also reduce their overall cost of operations, particularly through lower utility costs, thereby lowering the pressure on school districts to balance their budgets by cutting the funding directed to classrooms. Programs to modernize our schools will also provide a great opportunity to put unemployed and underemployed workers back to work quickly, helping to jumpstart our economy during this critical time.
Sincerely,
Tom Torlakson
cc: Arne Duncan [Note: Betsy DeVos was appointed as Secretary of Education on Feb. 7, 2017.], Secretary of Education, U.S. Department of Education
Last Reviewed: Friday, June 16, 2017
Recently Posted in Editorials & Letters