Common Core State Standards: Link to Listserv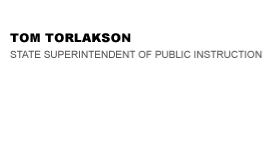 California Department of Education
Official Letter
California Department of Education
Official Letter
September 7, 2011
Dear County and District Superintendents and Charter School Administrators:
COMMON CORE STATE STANDARDS: LINK TO LISTSERV
up-to-date on all the information, resources, and opportunities to participate as the implementation of the Common Core State Standards (CCSS) progresses. Administrators and teachers, along with parents and the public, are invited to subscribe to the CCSS listserv account. By subscribing, you will receive updates by e-mail notification as new information is released. To subscribe to the CCSS listserv, send a "blank" message to join-commoncore@mlist.cde.ca.gov.
The CDE currently offers a number of communication resources to keep the field informed about the implementation of the new standards. For example, the CDE Common Core State Standards Resources Web page located at http://www.cde.ca.gov/ci/cc/ provides links to the standards and general overviews for each content area, curriculum tools and documents, and webinars and presentations about the CCSS. In addition, the CDE SMARTER Balanced Assessment Consortium Web page located at http://www.cde.ca.gov/ta/tg/sa/smarterbalanced.asp provides information regarding California's participation as a governing state in the SMARTER Balanced Assessment Consortium. As part of the CCSS listserv, you will be notified whenever either web page is updated with new references, resources, or requests for input and collaboration from the field.
Thank you in advance for your continued interest and involvement as we prepare students for a globalized society utilizing the 21st century skills reflected in the CCSS.
If you have any questions regarding the listserv, please contact Cynthia Gunderson, Education Programs Consultant, Curriculum Frameworks Unit, by phone at 916-319-0451 or by e-mail at cgunderson@cde.ca.gov [Note: the preceding contact information is no longer valid. Please contact Kristen Cruz Allen, Education Administrator, Curriculum Frameworks Unit, by phone at 916-323-4867 or by email at kcruzallen@cde.ca.gov.].
Sincerely,
Tom Torlakson
TT:ta
Last Reviewed: Friday, June 16, 2017
Recently Posted in Editorials & Letters