School Construction Process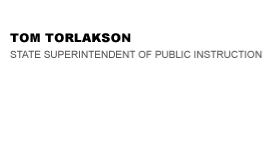 California Department of Education
Official Letter
California Department of Education
Official Letter
September 8, 2011
Dear County and District Superintendents and Charter School Administrators:
WORKING IN COOPERATION ON THE SCHOOL CONSTRUCTION PROCESS TO
PROVIDE SAFE AND MODERN SCHOOL FACILITIES
Providing safe and modern school facilities for California's children is of vital importance to our state. Achieving that goal requires decision-makers at every level of the school construction process to have accurate and reliable information.
As such, I have been troubled by the claims made recently by opponents of project labor agreements. Project labor agreements are a valuable tool to help local education agencies complete quality projects on time, reduce maintenance costs, assure worker safety, and maximize local job creation.
Specifically, the UCLA Labor Center-California Construction Academy has thoroughly analyzed a recent report critical of project labor agreements. Their analysis raises serious concerns about the study's focus, methodology, and the way in which results are reported.
A copy of their analysis accompanies this letter. I hope you will review it and consider it as you determine the best approach for meeting the school facilities needs of your community.
Having declared the first school financial emergency in California's history earlier this year, I am fully aware of the challenging fiscal circumstances school districts face.
I remain convinced, however, that our state's economic recovery depends on our willingness to work in partnership with the working people of California, creating jobs and opportunity in the process.
If you have any questions regarding this subject, please contact Craig Cheslog, Principal Advisor to the State Superintendent of Public Instruction, Superintendent's Initiatives Office, by phone at 916-319-0554 or by e-mail at ccheslog@cde.ca.gov [Note: the preceding contact information is no longer valid. Please contact the Office of the State Superintendent of Public Instruction at 916-319-0800.].
Sincerely,
Tom Torlakson
TT:ccc
Attachment (PDF)
Last Reviewed: Wednesday, May 13, 2020
Recently Posted in Letters