Great Teachers and Principals Survey Data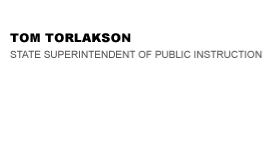 California Department of Education
Official Letter
California Department of Education
Official Letter
October 10, 2011
Dear County and District Superintendents and Charter School Administrators:
RELEASE OF 2011 AMERICAN RECOVERY AND REINVESTMENT ACT OF 2009
STATE FISCAL STABILIZATION FUND
GREAT TEACHERS AND PRINCIPALS SURVEY DATA
In June 2011, the California Department of Education (CDE) began collecting data for the 2011 American Recovery and Reinvestment Act of 2009 (ARRA), State Fiscal Stabilization Fund (SFSF), Great Teachers and Principals Survey. In accordance with the SFSF assurances, eligible local educational agencies (LEAs) were required to submit data regarding:
The systems used to evaluate the performance of teachers and principals, and the use of results from those systems in decisions regarding teacher development, compensation, promotion, retention, and removal


Whether the systems used to evaluate the performance of teachers and principals include student achievement outcomes or student growth data as an evaluation criterion


The number of teachers and principals rated at each performance rating or level
As required by the SFSF, the reported survey data collected via the Great Teachers and Principals Survey was posted online; the data may be viewed on the CDE School Staffing Report Web page at http://www.cde.ca.gov/nclb/sr/tq/schlstfrpt.asp. LEAs may review and update this information through December 1, 2011. Beginning this year, the CDE is required to submit this data to the U.S. Department of Education.
If you have any questions regarding the Great Teacher and Principal Survey, please contact the Title II Leadership Office, by phone at 916-445-7331 or by e-mail at GTPSurvey@cde.ca.gov.
Sincerely,

Tom Torlakson

TT:aw
Last Reviewed: Friday, February 3, 2017
Recently Posted in Editorials & Letters