Revision of the EL Development Standards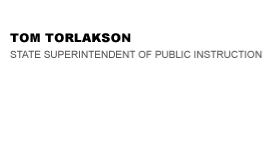 California Department of Education
Official Letter
California Department of Education
Official Letter
February 6, 2012
Dear County and District Superintendents and Charter School Administrators:
RECRUITING PANEL OF EXPERTS FOR THE REVISION OF THE ENGLISH
LANGUAGE DEVELOPMENT STANDARDS FOR CALIFORNIA PUBLIC SCHOOLS:
KINDERGARTEN THROUGH GRADE TWELVE
The California Department of Education (CDE) is pleased to announce that it is recruiting a panel of experts for the revision of the English Language Development Standards for California Public Schools: Kindergarten Through Grade Twelve. The English Language Development Standards will be revised to align with the Common Core State Standards for English Language Arts, which were adopted by the California State Board of Education (SBE) in August 2010, and to reflect current research on English language development instruction.
The panel shall consist of experts in English language instruction, curriculum, and assessment, including individuals who have a minimum of three years of demonstrated experience instructing English learners (ELs) in the classroom at the elementary or secondary level. The panel shall include, but is not limited to, school site principals, school district or county office of education administrators overseeing programs and support for ELs, personnel of teacher training schools at institutions of higher education, or curriculum and instructional specialists with EL experience. The panel shall consist of members who are appointed by the State Superintendent of Public Instruction, in consultation with the SBE, and is responsible for updating and revising the English language development standards adopted pursuant to California Education Code (EC) Section 60811 and aligning those standards with the SBE-approved academic content standards for English language arts adopted pursuant to EC Section 60605.8.
Interested individuals are encouraged to apply. Superintendents and charter school administrators are invited to nominate individuals and distribute the attached application to potential applicants. Please note that there is no compensation for service as a panel member, except that members will receive their actual and necessary travel expenses for attending panel meetings and participating in other panel activities.
For more information about the panel and to obtain application information, please visit the CDE English Learner Resources Web page at http://www.cde.ca.gov/sp/el/er/index.asp. For your convenience, the application form is attached. Applications must be e-mailed to ELDStandards@cde.ca.gov and received no later than 5 p.m. on Thursday, March 1, 2012.
If you have any questions regarding this subject, please contact Michele Anberg-Espinosa, Bilingual/Migrant Education Consultant, Language Policy and Leadership Office, by phone at 916-323-4872 or by e-mail at manbergespinosa@cde.ca.gov. [Note: the previous contact is no longer valid. Please contact the Language Policy and Leadership Office at 916-319-0845.]
Sincerely,
Tom Torlakson
TT:mae
Attachment 1 - http://www.cde.ca.gov/nr/el/le/documents/yr12ltr0206a1.doc
Attachment 2 - http://www.cde.ca.gov/nr/el/le/documents/yr12ltr0206a2.doc
cc: Michael Kirst, President, State Board of Education
Sue Burr, Executive Director, State Board of Education [Note: the preceding contact no longer works at the State Board. The current Executive Director is Karen Stapf-Walters.]
Last Reviewed: Friday, February 3, 2017
Recently Posted in Editorials & Letters