Revision of the ELA/ELD Framework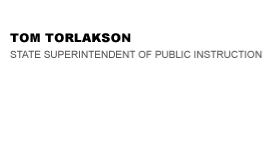 California Department of Education
Official Letter
California Department of Education
Official Letter
Dear County and District Superintendents, Charter School Administrators, Learning Resource Display Centers, and Interested Individuals and Organizations:
RECRUITING CURRICULUM FRAMEWORK AND EVALUATION CRITERIA
COMMITTEE MEMBERS FOR THE REVISION OF THE ENGLISH LANGUAGE
ARTS/ENGLISH LANGUAGE DEVELOPMENT FRAMEWORK FOR CALIFORNIA
PUBLIC SCHOOLS, KINDERGARTEN THROUGH GRADE TWELVE
The California Department of Education (CDE) and the State Board of Education (SBE) are pleased to announce that they are recruiting applicants for the Curriculum Framework and Evaluation Criteria Committee (CFCC) to assist with the revision of the English Language Arts/English Language Development Framework for California Public Schools, Kindergarten Through Grade Twelve (ELA/ELD Framework). The ELA/ELD Framework will incorporate and support the Common Core State Standards for English Language Arts and Literacy in History/Social Studies, Science, and Technical Subjects, adopted by the SBE in August 2010, and reflect current research on English language arts instruction. It will also incorporate new English Language Development Standards, which are due to be adopted by the SBE in late summer of 2012. Curriculum frameworks provide guidance to teachers, administrators, and parents on how a standards-based curriculum is implemented in the classroom.
Applicants will be accepted through August 16, 2012. The Instructional Quality Commission (IQC) will submit a list of recommended applicants to the SBE for appointment in September 2012.
The CFCC will meet up to six times to conduct the work of revising the ELA/ELD Framework. The meetings have been tentatively scheduled for the following dates: February 28–March 1, March 27–28, April 25–26, May 30–31, June 27–28, and July 25–26, 2013. All CFCC meetings will be public and take place in Sacramento. The CFCC will work with the framework writers and CDE staff to develop a draft ELA/ELD Framework that will be submitted to the IQC for field review in September 2013. The SBE will take final action on the ELA/ELD Framework in May 2014.
The CFCC will include between 9 and 20 members who will be selected to ensure balanced representation of regions, English language arts and English language development content knowledge, and grade-level experience. Please note that there is no stipend for service on the CFCC, but reimbursements for travel costs will be provided by the CDE. Unfortunately, the CDE cannot provide reimbursement for substitute cost.
The application process uses an online application posted on the CDE English Language Arts Curriculum Frameworks Web page at http://www.cde.ca.gov/ci/rl/cf/. The deadline for submission of applications is August 16, 2012. Please forward this information to any and all qualified candidates in your schools or organizations who might be interested in serving on the CFCC.
I encourage you to help us recruit qualified applicants for this important work. Thank you for your assistance and cooperation in disseminating this information.
If you have any questions regarding the CFCC or the framework revision process, please contact Cynthia Gunderson, Education Programs Consultant, Curriculum Frameworks and Instructional Resources Division, by phone at 916-319-0451 or by e-mail at cgunderson@cde.ca.gov.
Sincerely,
Tom Torlakson
TT:cg
cc: Michael Kirst, President, State Board of Education
Sue Burr, Executive Director, State Board of Education [The preceding contact no longer works at the State Board. Karen Stapf-Walters is the current Executive Director.]
Last Reviewed: Wednesday, January 25, 2017
Recently Posted in Editorials & Letters