Local School Wellness Policy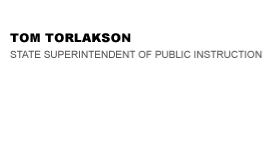 California Department of Education
Official Letter
California Department of Education
Official Letter
Dear County and District Superintendents and Charter School Administrators:
LOCAL SCHOOL WELLNESS POLICY
A healthy school environment is instrumental to student achievement. This is why, as State Superintendent of Public Instruction, I launched the Team California for Healthy Kids campaign to promote healthy eating and physical activity throughout the day, every day, in schools, before and after school programs, early childhood programs, and communities. Because you are leaders in your educational communities, I want to encourage you to update and implement your Local School Wellness Policy (LSWP) as part of your infrastructure for sustaining student wellness.
As you may be aware, school boards across the nation adopted districtwide LSWPs to fulfill the requirements of the Child Nutrition and Women, Infants, and Children's Reauthorization Act of 2004. This act required any district that participated in the National School Lunch Program, Special Milk Program, and/or the School Breakfast Program to adopt and implement their LSWP by 2006.
Recently, the Healthy, Hunger-Free Kids Act of 2010 (HHFKA), Public Law 111-296, reauthorized the Child Nutrition Programs (CNPs) and put into place federally required enhancements to LSWPs, adding Section 9A to the Richard B. Russell National School Lunch Act (42 United States Code 1758b), LSWP Implementation. The new provisions enhance the previous LSWP requirements by (1) strengthening requirements for ongoing implementation, assessment, and public reporting of wellness policies and (2) expanding the team of collaborators participating in LSWP development to include more school and community members.
The California Department of Education (CDE) communicated the new requirements in August 2011 by way of Management Bulletin (MB) USDA-SNP-16-2011. The MB is located on the CDE Local School Wellness Policy Web page at https://www.cde.ca.gov/ls/nu/sn/mbusdasnp162011.asp [Note: the preceding link and document are no longer available]. See the enclosure for a comparison chart showing the requirements for your updated wellness policy. The chart is also located on the USDA Food and Nutrition Service Web page at www.fns.usda.gov/tn/healthy/lwpcomparisonchart.pdf [Note: this link is no longer valid.].
Action Required
The CDE is requiring that school districts review and update their LSWP for compliance with new requirements during the upcoming 2012–13 school year. Districts must also inform and update the public about their LSWP, preferably using a variety of approaches and media targeted toward each audience.
Stakeholder Involvement
We strongly recommend districts act now to establish or expand a school health advisory council or student wellness committee to review existing wellness policies, gather input from interested stakeholders, and develop thoughtful recommendations on needed wellness policy revisions. This health-focused group can provide input on a LSWP implementation plan. In keeping with the spirit of the law, districts should expand the breadth of stakeholder involvement by including representation from:
District Stakeholders such as school board members, school administrators and other business officers, child nutrition directors, school nurses, curriculum directors, teachers, physical education specialists, health educators, after school staff, parents, and students
Community Stakeholders such as elected officials; representatives from county health departments; local business organizations; parks and recreation agencies; health care and mental health agencies; social service organizations; nonprofit health, nutrition, and physical education groups; transportation agencies; higher education agencies; local media; and volunteer organizations
After stakeholders submit their recommendations, the district needs to allow ample time for the school board's review and deliberation of the wellness policy revisions and subsequent adoption of policy revisions. The stakeholder group should continue to provide input on the implementation and monitoring of the revised policy.
Resources
The CDE has posted resources, which will be continually updated, on the CDE Local School Wellness Policy Web page. The California School Boards Association (CSBA) has updated its California-focused model policy, which is available on the CSBA Policy Development Web page at www.csba.org/en/EducationIssues/EducationIssues/~/link.aspx?_id=54F898FF264A4F4F9A284B978249DAE0&_z=z. [Note: the preceding link is no longer available. For more information about CSBA policy development, go to the CSBA Policy Development Workshops Web page at https://www.csba.org/ProductsAndServices/AllServices/PolicyDevelopmentWorkshop.].
We recommend that you join the Webinar entitled Local School Wellness Policies: Healthy Schools Mean Healthy Kids, Families and Communities hosted by the CSBA, CDE, and California Research Center for Women and Families at 3:30 p.m. on September 27, 2012. The Webinar will feature an interview with me sharing my recommendations about the leadership role of district superintendents and board members in updating their LSWPs. You can register on the CSBA Events Web page at https://www.csba.org/TrainingAndEvents/EventCalendar.
Thank you for your leadership and strong support of LSWP. If you have any questions regarding this letter, please contact Heather Reed, Nutrition Education Consultant, by phone at 916-323-3581 or by e-mail at hreed@cde.ca.gov [Note: the preceding contact information is no longer current. Please contact Crystal Young, Nutrition Education Consultant, by phone at 916-322-3435 or by e-mail at cyoung@cde.ca.gov.].
Sincerely,
Tom Torlakson
TT:hr
Enclosure (PDF) [Note: the preceding document is no longer available.]
cc: School Food Service Directors
Last Reviewed: Monday, October 25, 2021
Recently Posted in Letters