2013 California Distinguished Schools Awards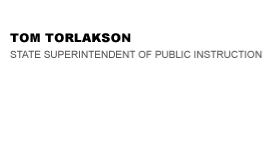 California Department of Education
Official Letter
California Department of Education
Official Letter
November 2, 2012
Dear County and District Superintendents and Charter School Administrators:
2013 CALIFORNIA DISTINGUISHED SCHOOL AWARDS
I am pleased to announce the launch of the California School Recognition Program's 2013 California Distinguished School Awards for middle and high schools.
The California Distinguished School Awards Program (CDSP) was created in 1985 to communicate and reinforce the educational priorities of the State Superintendent of Public Instruction (SSPI). The recognition program honors schools that are successfully implementing those priorities and identifies models of achievement for others. This tradition of honoring the state's most exemplary and inspiring public schools is important as we highlight successes in education.
The CDSP recognizes elementary and secondary schools in alternate years. The 2013 California Distinguished School Awards focus on middle and high schools.
The program continues its focus on schools' long-term success by providing recognition to schools that realize high academic achievement and educational excellence for all students. In 2012, the California Department of Education (CDE) made changes to the CDSP so it would better reflect the priorities set forth in A Blueprint for Great Schools (http://www.cde.ca.gov/eo/in/bp/).
As this is a California-focused program, last year I decided that the federal Adequate Yearly Progress (AYP) results will not be included in the CDSP eligibility criteria. Additionally, for the first time, schools identified as Program Improvement Year 1 will remain eligible for the CDSP award.
Overall eligibility will continue to reflect California's rigorous assessment standards through the state's Academic Performance Index (API) results. In addition to continuing to use assessments developed to measure the closing of the achievement gap, the eligibility cutoff is the 60th percentile for API. For 2012, this API cutoff is greater than or equal to 820 for middle schools and 782 for high schools. The CDE has posted detailed eligibility criteria on the CDSP Web page at http://www.cde.ca.gov/ta/sr/cs/.
As in previous years, this year's application will allow each eligible school the opportunity to share successful signature practices and earn recognition as a California Distinguished School. A team of educators will verify that the signature practices submitted as part of a school's application meet all application guidelines. Schools that submit successful applications will receive a site visit by a team of educators to validate the implementation of the school's signature practices. The team will make its recommendation to the SSPI, who will make the final decision about whether to make the Distinguished School Award.
The Exemplary Career Technical Education Award will continue to be offered this year as in previous secondary school cycles. This year, the CDE is also introducing two new (and optional) exemplary program awards that reflect the goals outlined in A Blueprint of Great Schools: one in the Visual and Performing Arts and one that focuses on Health, Nutrition, and Physical Fitness (the goals of my Team California for Healthy Kids Campaign). If these demonstration efforts prove successful, I plan to introduce exemplary programs for the remaining signature practice areas in future years.
The CDE will notify the schools that meet the established criteria of their eligibility to apply for the 2013 California Distinguished School Award later today. The list of eligible schools is also available on the CDSP Web page (http://www.cde.ca.gov/ta/sr/cs/) along with the application and application instructions. The application must be postmarked by Monday, December 10, 2012.
If you have any questions regarding this subject, please contact Cynthia Henninger, CDSP Coordinator, Awards Team, Superintendent's Initiatives Office, by phone at 916-319-0841 or by e-mail at awards@cde.ca.gov [Note: the preceding contact information is no longer valid. Please call Patricia McLeod by phone at 916-319-0555 or by e-mail at awards@cde.ca.gov or pmcleod@cde.ca.gov.].
Sincerely,
Tom Torlakson
Last Reviewed: Tuesday, July 25, 2017
Recently Posted in Editorials & Letters