Smarter Balanced Technology Strategy Framework and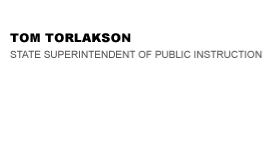 California Department of Education
Official Letter
California Department of Education
Official Letter
December 4, 2012
Dear County and District Superintendents and Charter School Administrators:
SMARTER BALANCED TECHNOLOGY STRATEGY
FRAMEWORK AND SYSTEM REQUIREMENTS SPECIFICATIONS
The Smarter Balanced Assessment Consortium (SBAC) recently commissioned a report titled,
Smarter Balanced Technology Strategy Framework and System Requirements Specifications
. This report provides the minimum recommended technology hardware specifications and basic bandwidth calculations required to successfully administer the Smarter Balanced assessments. It also presents a framework for collective technology planning among the SBAC member states. District and school personnel are encouraged to review this report and the tables contained therein to help them determine if their legacy technology assets support computer-adaptive assessments. The SBAC press release is available at
http://www.smarterbalanced.org/news/smarter-balanced-releases-technology-strategy-framework-and-system-requirements-specifications/
[
Note
: the preceding URL is no longer valid]. The report is available at the SBAC Web site at
http://www.smarterbalanced.org/smarter-balanced-assessments/technology/

.
The report emphasizes the critical need for technology to support student learning with the Smarter Balanced Assessment System minimum requirements as context and milestones. The authors of the report acquired and reviewed key data from a variety of sources including the Technology Readiness Tool that you provided as well as related survey information, state stakeholder discussions, Smarter Balanced advisory meetings and related research, and district interviews from across the consortium to make some specific findings. Below is an excerpt from the report's executive summary about their findings:
State's implementing online, computer-adaptive assessments similar to the proposed Smarter Balanced Assessment System have done so effectively while adhering to tight budgetary provisions and implementation timelines.


Districts and educators within states that have made the transition to online, computer-adaptive tests find considerable value in the increased amount and specificity of performance data available, the expediency in which the data is accessible, and the cost-savings associated with online distribution and management of the assessment and the related data.


Much of the existing hardware devices currently deployed across school sites will effectively support the Smarter Balanced Assessment System. However districts must focus on ensuring ample bandwidth provisions to support larger populations of students participating in testing through strategic scheduling and rotations throughout administration windows.
We understand that schools and districts may be making decisions about what types of hardware and software to purchase for future instructional and assessment use. We hope these system requirement specifications, along with the previously released, Smarter Balanced New Hardware Purchasing Guidelines will be useful in helping you ensure that any devices acquired over the next two years will be compatible with the new assessments. As part of your plans to support instruction, districts and schools may select computer systems that meet or exceed these minimum specifications and be confident that those systems will work with the SBAC assessments in the 2014–15 school year.
Thank you for your continued support as we transition to a new platform for our assessments. If you have any questions regarding these guidelines or the Technology Readiness Tool, please contact Jose Ortega, State Readiness Coordinator in the Education Technology Office by phone at 916-323-5072 [Note: the preceding contact information is no longer valid. If you have questions, please contact Alison Dias in the Education Data Management Division by phone at 916-323-5072 or by e-mail at adias@cde.ca.gov], or send an e-mail using a special e-mail account created specifically for this initiative at sbac-itreadiness@cde.ca.gov.
Sincerely,


Tom Torlakson
cc: Technology Liaisons
Last Reviewed: Friday, April 28, 2017
Recently Posted in Editorials & Letters