Providing Students Adequate Time to Eat Lunch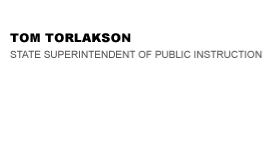 California Department of Education
Official Letter
California Department of Education
Official Letter
January 25, 2013
Dear School Leaders:
PROVIDING STUDENTS ADEQUATE TIME TO EAT LUNCH
As educators, we know that students perform best academically when well-nourished. It is essential that they consume nutritious meals to assist in meeting their physical, social, and emotional needs. Eating habits formed during childhood impact health patterns into adulthood. Yet often students do not have adequate time to eat a healthy lunch. I urge you to ensure that students have sufficient time at the lunch table to finish their meal.
We are all making changes to improve the health of our children and youth. One of the most exciting is the improved nutrition standards for the National School Lunch Program (NSLP), part of the Healthy, Hunger-Free Kids Act of 2010. These standards require increased variety and servings of fruits, vegetables, and whole grains. My Team California for Healthy Kids initiative reinforces this use of more produce (especially fresh) by supporting salad bars in schools at lunchtime. However, students need sufficient time to eat the healthier meal or it may end up wasted. In fact, providing enough time for students to sit with friends and enjoy their meals is among the top 10 factors identified by health professionals as important to the development of healthy eating behaviors.1 In School Nutrition…by Design!2, the California Department of Education (CDE) recommends that each student has no less than 10 minutes for breakfast and no less than 20 minutes for lunch after being served.
Students who participate in the NSLP have better nutrient intakes than students who make other choices, such as purchasing lunch from vending machines, bringing lunch from home, or eating off campus. 3 4 It is critical that we do everything we can to make it easy for students to purchase and eat a school lunch. Research indicates that inadequate time to eat discourages students from buying and eating complete lunches. Waiting in line is the most commonly reported factor contributing to student dissatisfaction with lunches. When they do not have enough time to consume a complete lunch, students throw away a large portion of the meal, buy snacks instead, or skip lunch entirely.5 As a result, they are not ready to focus on their afternoon education. Research consistently shows that hungry students cannot learn, and ensuring that students have enough time to eat a nutritious meal promotes academic achievement.
We are committed to finding solutions to this important challenge. The CDE's Child Nutrition consultants will share best practices for mealtime management during NSLP administrative reviews. We will send out updates to keep you informed.
Each school has unique characteristics. We recognize the difficulty in lengthening the amount of time students have to sit and eat lunch when considering costs, workload, and mandated instructional time. There is not a single strategy that will work for every situation. Attached is a compilation of tips and techniques that you, as school administrators and food service professionals, may find useful in making incremental improvements to ensure students have enough time to eat a nutritious lunch.
CDE staff is collaborating with our partners to identify a variety of ways that schools can successfully address adequate time to eat while preserving instructional minutes. Your district's insights are invaluable, and we invite you to share your experiences with implementing positive changes in the school lunch environment.
If you have any questions regarding this subject, please contact Kimberly Frinzell, Nutrition Services Division Director, by phone at 916-445-0850 or by e-mail at kfrinzell@cde.ca.gov.
Sincerely,
Tom Torlakson
TT:dt
Attachment [http://www.cde.ca.gov/nr/el/le/yr13ltr0125att.asp]
cc: California Association of School Business Officials, Child Nutrition Professional Council
California Center for Public Health Advocacy
California Food Policy Advocates
California Parent Teachers Association
California School Board Association
California School Nutrition Association
Center for Ecoliteracy
The California Endowment
U.S. Department of Agriculture, Western Regional Office
1 Martha T. Conklin, PhD, RD; Laurel G. Lambert, PhD, RD, LD; and Janet B. Anderson, MS, RD. "How Long Does it Take Students to Eat Lunch? A Summary of Three Studies." The Journal of Child Nutrition & Management, Issue 1, Spring 2002.
2 School Nutrition…by Design! Report of the Advisory Committee on Nutrition Implementation Strategies, California Department of Education, 2006. Available at http://www.cde.ca.gov/ls/nu/he/nutredres.asp [Note: the preceding link is no longer available]
3 Rainville, A. "Nutritional Quality of Reimbursable School Lunches Compared to Lunches Brought From Home,"The Journal of Child Nutrition & Management, Spring 2001.
4 Gordon A, Devaney B, Burghardt J. "Dietary effects of the National School Lunch Program and the School Breakfast Program." American Journal of Clinical Nutrition, 1995; 61(supplement): 221S-231S.
5 Cynthia Curl Henderson, "The State of Nutrition and Physical Activity in Our Schools," Environments and Human Health, Inc. 2004. Available at http://www.ehhi.org/reports/obesity/obesity_report04.pdf.
Last Reviewed: Wednesday, May 13, 2020
Recently Posted in Editorials & Letters