Smarter Balanced Assessment Consortium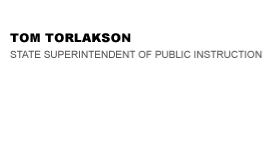 California Department of Education
Official Letter
California Department of Education
Official Letter
May 8, 2013
Dear County and District Superintendents and Charter School Administrators:
SMARTER BALANCED ASSESSMENT CONSORTIUM TO LAUNCH PRACTICE TESTS ON PUBLIC WEB SITE
On May 29, 2013, the Smarter Balanced Assessment Consortium (Smarter Balanced) will launch a set of Practice Tests for grades three through eight and grade eleven. For each grade, a Practice Test will be available in both English language arts (ELA) and mathematics. The Practice Tests, which will be publicly available on the Smarter Balanced Web site at http://www.smarterbalanced.org/, will provide the opportunity to experience the basic functionality of the Smarter Balanced test administration system.
The Practice Test will include an array of item types, including selected response, constructed response, and performance tasks, and will be built using test blueprints similar to those for the operational tests. In addition, the Practice Tests will support several accommodations including text-to-speech for mathematics and ELA tests (not including ELA passages); Braille for mathematics and ELA tests; and, for mathematics tests only, Spanish pop-up glossaries for construct-irrelevant terms and American Sign Language.
I encourage all educators, students, and parents to take advantage of this opportunity to explore the Smarter Balanced Practice Tests and share their experiences with one another. The Practice Tests will be available until the implementation of the operational Smarter Balanced assessments in 2014–15.
Questions about the Smarter Balanced Practice Tests should be directed to the Assessment Development and Administration Division, Statewide Assessment Transition Office, by phone at 916-445-8517 or by e-mail at sbac@cde.ca.gov.
Sincerely,
Tom Torlakson
TT:lh
2013-03323
cc: District Assessment Coordinators
Regional Assessment Network Liaisons
Smarter Balanced EDCO Liaisons
Last Reviewed: Wednesday, October 5, 2016
Recently Posted in Editorials & Letters