School Accountability Report Card Survey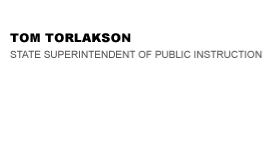 California Department of Education
Official Letter
California Department of Education
Official Letter
May 10, 2013
Dear County and District Superintendents and Charter School Administrators:
SCHOOL ACCOUNTABILITY REPORT CARD SURVEY
The California Department of Education is conducting an online survey and hosting regional focus group meetings to gather information regarding potential improvements to future School Accountability Report Cards (SARCs).
One of the key ways for parents and community members to learn about their school is through the SARC. With 35 data tables, the SARC reports on information such as student enrollment, facilities, textbooks, student academic achievement, and graduation rates. The SARC is one of the most comprehensive data tools available to gauge the performance of schools.
As we begin the 2012–13 SARC template development, we are collecting information from SARC preparers and members of the public to improve the usability and readability of the SARC. We will collate survey responses and use aggregate data that are not tied to a single respondent to identify areas for improvement and possible solutions. Your participation is voluntary, but critically important in guiding the 2012–13 statewide SARC template development. The survey:
May be accessed at http://surveys.cde.ca.gov/surveylogin.asp?k=136751391556
[Note: The preceding link is no longer valid as the survey is now closed]
Is open until June 1, 2013

Will take approximately five minutes to complete
Please forward this e-mail to anyone whose responses you believe will help us to improve the format and data displays for the SARC. If you have any questions regarding this subject, please contact Stephanie Woo, Education Research and Evaluation Consultant, Evaluation, Research, and Analysis Office, by phone at 916-323-3071 or by e-mail at
sarc@cde.ca.gov
.
Thank you for your time and assistance with this important work.
Sincerely,
Tom Torlakson
TT:sw
2013-01224
cc: School Accountability Report Card Preparers
Accountability Coordinators
Last Reviewed: Wednesday, October 5, 2016
Recently Posted in Editorials & Letters