Health Care Options Education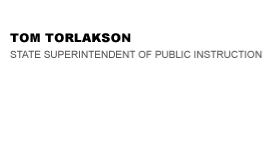 California Department of Education
Official Letter
California Department of Education
Official Letter
July 10, 2013
Dear County and District Superintendents and Charter School Administrators:
EDUCATING STUDENTS, STAFF, AND PARENTS FOR HEALTH CARE OPPORTUNITIES
As we enter summer, I am looking ahead to the many opportunities we will have in the next school year to enrich the lives and health of California's children.
As you know, I have been working with my team to help align school priorities with my report, A Blueprint for Great Schools, which is on the California Department of Education (CDE) A Blueprint for Great Schools Web page at http://www.cde.ca.gov/eo/in/bp/bpcontents.asp. The Blueprint contains important recommendations to ensure students are healthy and ready to learn.
With the implementation of health care reform just around the corner, one important thing we can do is ensure that schools play an active role in bringing health coverage information and enrollment opportunities to parents, staff, and especially children. The simple truth is that children with health insurance are more likely to get the health care they need. The result is improved attendance and healthier, more attentive, and higher-performing students in the classroom.
There is much we can and must do before the October 1, 2013, launch of the Affordable Care Act. We want our staff members and families, child care centers, athletic and after-school programs, and school nurses to all be informed about health care reform—and, most importantly, to work with community partners to ensure everyone is informed and enrolled in coverage.
The CDE is committed to using this new opportunity to see that every child gets the coverage they need to stay healthy and learning. I am pleased to announce our collaboration with The Children's Partnership and other groups to make information available about health coverage options and provide online toolkits and local assistance referrals so that districts, schools, and classrooms can be a part of achieving that goal.
In the weeks and months ahead, you will be hearing more from The Children's Partnership, other partner organizations, and the CDE about how you and your schools can contribute to this important effort. I hope you will welcome their ideas and choose to get involved in helping our families take advantage of this historic opportunity to achieve affordable health coverage.
This fall offers an unprecedented opportunity. Working together, we can make a difference for all our children.
Have a wonderful summer, and come back ready to rock and enroll!
Sincerely,
Tom Torlakson
TT:km
2013-05974
Last Reviewed: Thursday, November 17, 2016
Recently Posted in Editorials & Letters