Double-Testing Flexibility for 2013-14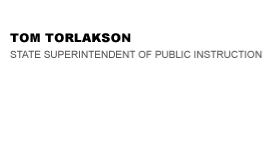 California Department of Education
Official Letter
California Department of Education
Official Letter
July 19, 2013


Dear County and District Superintendents and Charter School Administrators:
U.S. DEPARTMENT OF EDUCATION ANNOUNCEMENT OF DOUBLE-TESTING FLEXIBILITY FOR THE 2013–14 SCHOOL YEAR
On June 18, 2013, U.S. Secretary of Education Arne Duncan announced that the U.S. Department of Education (ED) will consider Title I waiver requests from states that participate in the field testing of new state assessments during the 2013–14 school year. This measure is intended to help states avoid the double-testing of students by allowing each student to be given only one assessment—either the current statewide assessment or the Field Test—per content area. Field Test results will not factor into federal accountability measures. For states in which the double-testing waiver request is granted, the federal accountability designation for schools participating in the Field Test would carry over from the 2012–13 school year to the 2013–14 school year.
The California Department of Education (CDE) will recommend that California seek a waiver from the ED for all schools that participate in the Field Test. The CDE will take the waiver request to the State Board of Education in September for approval to send to the ED.
As a member of the Smarter Balanced Assessment Consortium, California will participate in the consortium's Field Test in spring 2014. While the sampling structure for the Field Test is still under development, I am asking the Smarter Balanced Assessment Consortium to consider the inclusion of as many California schools as possible in the Field Test as this will be a wonderful opportunity for our students and teachers. Pending legislative authority, California will begin administering the Smarter Balanced system of assessments in the 2014–15 school year.
Questions about the Smarter Balanced Field Test should be directed to the Assessment Development and Administration Division's California Assessment of Student Performance and Progress Office by phone at 916-445-8765 or by e-mail at caaspp@cde.ca.gov. My staff will provide you with further information regarding the waiver and the Field Test as it becomes available.
Sincerely,
Tom Torlakson
TT:jv
2013-05727
Last Reviewed: Thursday, October 12, 2017
Recently Posted in Editorials & Letters