September Attendance Awareness Month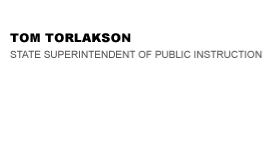 California Department of Education
Official Letter
California Department of Education
Official Letter
August 16, 2013
Dear County and District Superintendents and Charter School Administrators:


SEPTEMBER ATTENDANCE AWARENESS MONTH: JOINING FORCES TO IMPROVE SCHOOL ATTENDANCE
I am writing today to invite you to join me in calling upon schools, families, and community partners to work together to improve attendance. Fall is when schools and communities lay out expectations for the coming year and—together—can develop a districtwide culture of regular attendance that will continue throughout the year. I encourage you to start taking action now to monitor all absences and work together to keep students in school.
In many schools, chronic absence is an overlooked problem. Starting in kindergarten and first grade, chronic absence (missing 10 percent of school for any reason during an academic year) is associated with lower levels of third grade reading, higher levels of suspension, and lower academic achievement in middle school. By middle and high school, chronic absence is a critical early warning sign that students will drop out. While being in school is not, by itself, sufficient to ensure high school graduation, chronic absence is a clear indication that students are off track and in need of intervention to get them on the right path to success.
Regular attendance helps students succeed in school and is an essential future employment skill. Students who have had poor school attendance are more likely to drop out of school, have significantly fewer job prospects, and earn lower salaries.
Strong partnerships with health, social service, and civic organizations help families to overcome attendance barriers such as poor health and nutrition, unsafe neighborhoods, unstable housing, or unreliable transportation. On May 28, 2013, Diana S. Dooley, Secretary of Health and Human Services, and I joined together to host a forum on interagency collaboration that called for all of us to help reduce chronic absence. Through this collaboration with local and state agencies, we promoted public awareness and reforms that would improve school attendance. Through programs such as School Attendance Review Boards we can reduce chronic absence rates, especially in low-income communities where the impact of chronic absence is most adverse.
Attendance Works is a national and state initiative that promotes better policy and practice around school attendance and offers a wealth of online resources. This includes the Count Us In toolkit and concrete steps that communities can take to mark Attendance Awareness Month. Please visit the Attendance Works Web site at http://www.attendanceworks.org/

for more information.
Please join me in making attendance a top priority starting this September.
If you have any questions regarding Attendance Awareness Month, please contact David Kopperud, Education Programs Consultant, Education Options, Student Support, and American Indian Education Office, by phone at 916-323-1028 or by e-mail at dkopperud@cde.ca.gov. [Note: Kopperud is also the chairperson for the State School Attendance Review Board.]
Sincerely,
Tom Torlakson
TT:gj
2013-06734
Last Reviewed: Wednesday, December 21, 2016
Recently Posted in Editorials & Letters