California STEM Symposium Letter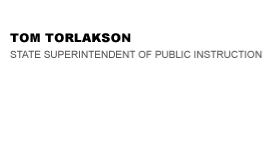 California Department of Education
Official Letter
California Department of Education
Official Letter
September 11, 2013
Dear County and District Superintendents and Charter School Administrators:
CALIFORNIA SCIENCE, TECHNOLOGY, ENGINEERING, AND MATHEMATICS SYMPOSIUM ON NOVEMBER 18–19, 2013
I would like to invite you and your district's administrators and teachers to join us at the First Annual California Science, Technology, Engineering, and Mathematics (STEM) Symposium 2013 on November 18–19, 2013, at the Sacramento Convention Center. This will be a one-of-a-kind gathering that will showcase STEM programs and curriculum, strategies and resources, Common Core and Next Generation Science Standards, and over 150 presenters who are enthusiastically preparing to share their best practices with you.

California is the birthplace of many of the technologies that make this country great. If we want California to once again be on the cutting edge of innovation, we must provide our teachers with the tools they need to prepare our young people to effectively address the opportunities and challenges we will encounter as a state, as a county, and as a worldwide community. This conference is a beginning—a beginning to a fresh approach that integrates and enhances STEM education and facilitates student interest, learning, and creativity.

Framing the one-and-a-half days of workshops and presentations will be five distinguished and entertaining keynote speakers:
Sugata Mitra, professor of Educational Technology at Newcastle University in the United Kingdom and previously a visiting professor at the Massachusetts Institute of Technology


Geena Davis, actress, activist, and member of the California Commission on the Status of Women and Girls


Thomas Suarez, fourteen-year-old developer of the "Bustin Jieber" app and California Latino Legislative Caucus 2013 Latino Spirit Award Honoree—Dynamic Youth Award


Kenneth Wesson, education consultant, neuroscience expert—Brain-STEM: Linking STEM and Brain-based Learning


José Hernández, former astronaut, electrical and computer engineer, and founder of "Reaching for the Stars!" Foundation
Information about the conference and registration is on the Californians Dedicated to Education Foundation First Annual California STEM Symposium 2013 Web page at http://cdefoundation.org/stemconference/ [Note: This Web page is no longer available]. Please direct your questions to the California Department of Education STEM Office by phone at 916-323-5847 or by e-mail at STEM@cde.ca.gov.
This is a conference by teachers, for teachers. We are reaching out to you to join us as we seek to Innovate, Integrate, and Inspire. Please encourage your teachers to attend the First Annual California STEM Symposium 2013 on November 18–19, 2013, in Sacramento.

Sincerely,

Tom Torlakson

TT:jw/ks
2013-07811
Last Reviewed: Tuesday, November 22, 2016
Recently Posted in Editorials & Letters