Community College of San Francisco Letter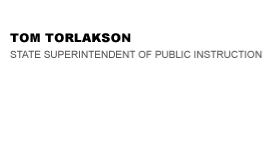 California Department of Education
Official Letter
California Department of Education
Official Letter
September 17, 2013
Dr. Sherrill Amador, Chair
Accrediting Commission for Community and Junior Colleges
10 Commercial Blvd., Suite 204
Novato, CA 94949
Dear Dr. Amador:
I am writing today to emphasize just how vital the Community College of San Francisco (CCSF) is to the San Francisco Bay Area. I believe ensuring CCSF receives reaccreditation and is removed from its "show cause" status as soon as possible must be a priority.
CCSF's possible closure would have clear negative impacts on our K-12 students and the economic vitality of the San Francisco Bay Area. We must do everything possible to avoid these devastating potential outcomes.
Over 65,000 students from the San Francisco Unified School District and South San Francisco Unified School Districts depend upon CCSF to assist them with transferring to four-year institutions, career technical education training, job skills and training, English as a Second Language, and other educational opportunities.
CCSF plays a vital role in ensuring the region's students have access to our state's public higher education institutions. For example, of the 3,849 San Francisco Unified School District (SFUSD) spring graduates, approximately 1,106 of them enrolled at CCSF in the fall of 2011 (29 percent of the graduating class at SFUSD).
Students that had planned to obtain job training (like a certificate in automotive technology or computer applications) will have to look elsewhere, potentially to more expensive private, for-profit institutions.
CCSF's closure will leave many students discouraged and unsure of how to continue their postsecondary paths. This frustration, and the potential loss of their higher education dream, could increase the dropout rate and lead to higher unemployment.
If CCSF closes, students who planned to attend CCSF may not be able to afford to travel to local community colleges in neighboring areas. Those who can travel could also overload surrounding community colleges.
CCSF has a significant impact on San Francisco's workforce. For example, nursing students who received an Associate of Arts/Science degree at CCSF earned an average annual salary of $78,000 within five years of earning their degree. Its closure would create a large gap in workforce education in San Francisco, which can ultimately affect the local and state economy. CCSF offers over 200 low-cost Career Technical Education programs. Students in the middle of their programs would have to find other community colleges to continue their programs. Or worse, they will drop out completely.
I urge you to do everything possible to avoid the horrible outcomes I have described above. Our students, the San Francisco Bay Area, and the state cannot afford them.
Given the recent U.S. Department of Education findings that the City College of San Francisco accreditation review process was flawed, I encourage the Accrediting Commission of Community and Junior Colleges to rescind the college's show cause sanction.
Removal of the immediate disaccreditation threat will create a more positive environment. It also will allow all interested parties to work together and take necessary steps to ensure CCSF remains open to serve the students and the community.
If you have any questions about this subject, please contact me through Rebecca Barrett, Special Advisor (EDIT: The contact person has changed to Briana Mullen, Policy Advisor) to the State Superintendent of Public Instruction, by phone at 916-324-1597 or by e-mail at rbarrett@cde.ca.gov (EDIT: Briana Mullen's e-mail address is bmullen@cde.ca.gov).
Sincerely,
Tom Torlakson
State Superintendent of Public Instruction
Last Reviewed: Thursday, March 23, 2017
Recently Posted in Editorials & Letters