Provision 2 and 3 Schools Letter from SSPI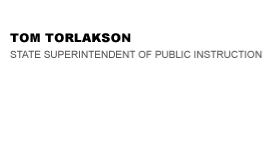 California Department of Education
Official Letter
California Department of Education
Official Letter
September 27, 2013
Dear County and District Superintendents and Independently Reporting Charter School Administrators:
PROVISION 2 AND 3 SCHOOLS AND CALIFORNIA LONGITUDINAL PUPIL ACHIEVEMENT DATA SYSTEM DATA
This letter is directed to county and district superintendents and independently reporting charter school administrators with one or more schools with a National School Lunch Program (NSLP) Provision 2 or 3 status. Specifically, I am responding to concerns expressed by local educational agencies (LEAs) regarding a change in the data collection process for students in Provision 2 and 3 schools. I want to assure you that I understand the additional burden this guidance has placed on your staff and let you know the steps I am taking to ease this important transition.
LEAs submit data to the California Longitudinal Pupil Achievement Data System (CALPADS) that identifies disadvantaged student populations, including English learners and students eligible for free or reduced-price meals (FRPM). This information is based on a count of the students enrolled on Census Day (October 2, 2013) during the Fall 1 data collection, which is open between October 2 and December 13, 2013. Following this initial collection deadline, the CALPADS Fall 1 amendment window opens December 14, 2013, and closes on February 7, 2014. The guidance at issue (available on the California Department of Education (CDE) CALPADS Update Flash #75 Web page at http://www.cde.ca.gov/ds/sp/cl/calpadsupdflash75.asp) [Note: the preceding link is no longer active.] directs Provision 2 and 3 schools to collect information to determine whether individual students meet FRPM income eligibility requirements. Beginning in this year, these data will be used in Local Control Funding Formula calculations.
In response to your concerns, the CDE will allow LEAs that have one or more schools with a NSLP Provision 2 or 3 status to extend the CALPADS Fall 1 amendment window, up to March 21, 2014. Additionally, the CDE will continue to work with the Administration and the California State Legislature on possible legislative measures in 2014 to prevent this data collection transition in 2013–14 from affecting funding calculations in subsequent years.
For further information regarding this matter, please contact Cindy Kazanis, Director, Educational Data Management Division, by phone at 916-319-0634 or by e-mail at ckazanis@cde.ca.gov. [Note: the preceding contact information is no longer valid. For more information, contact Jerry Winkler, Director, Educational Management Division, by phone at 916-319-0634 or by e-mail at jwinkler@cde.ca.gov.]
Sincerely,
Tom Torlakson
TT:jb
2013-08122
Last Reviewed: Friday, February 17, 2017
Recently Posted in Editorials & Letters