Transitional Kindergarten Implementation Guide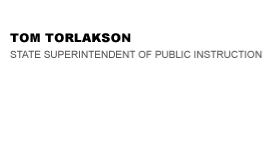 California Department of Education
Official Letter
California Department of Education
Official Letter
November 19, 2013
Dear County and District Superintendents and Charter School Administrators:
TRANSITIONAL KINDERGARTEN IMPLEMENTATION GUIDE
I am pleased to present the Transitional Kindergarten Implementation Guide: A Resource for California Public School District Administrators and Teachers, which was developed by the Child Development Division of the California Department of Education (CDE), under contract with the Sacramento County Office of Education. The Implementation Guide is posted on the CDE Elementary Education Web page at http://www.cde.ca.gov/ci/gs/em/.
Building upon the Transitional Kindergarten Planning Guide published in 2011 by the California County Superintendents Educational Services Association, this publication provides resources and guidance in the areas of program design, curriculum, instruction, assessment, and family/community partnerships. The Implementation Guide focuses on the essential components for school district administrators and teachers to consider as they develop comprehensive TK programs.
I express my gratitude to the teachers, administrators, and early care and education experts who provided extensive feedback on the development of the Implementation Guide. I also extend my appreciation to the teachers who served on the TK/Kindergarten Advisory Committee to share their expertise in the development of the guide and the video illustrations that accompany it. In addition, I thank the local educational agency representatives and parents who shared their experiences through interviews and provided access for videotaping TK classrooms and activities.
The following local educational agencies are recognized for their contributions, which included interviews and video illustrations of TK classrooms:
Clovis Unified School District
Fresno Unified School District
Gilroy Unified School District
Junction Elementary School District
Kingsburg Elementary Charter School District
Livingston Union School District
Long Beach Unified School District
Mariposa County Unified School District
Merced City School District
Merced County Office of Education
Pasadena Unified School District
Placentia-Yorba Linda Unified School District
Rescue Union School District
Sacramento City Unified School District
For more information regarding the Implementation Guide, please contact Kathleen Halvorson, Education Programs Consultant, Professional Learning Support Division, by phone at 916-323-4629 or by e-mail at KHalvorson@cde.ca.gov.
Sincerely,
Tom Torlakson
TT:lap
2013-09650
Last Reviewed: Tuesday, August 25, 2020
Recently Posted in Letters