Implementing Federal Nutrition Standards Letter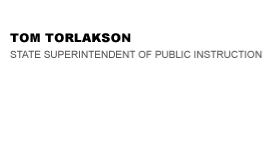 California Department of Education
Official Letter
California Department of Education
Official Letter
December 6, 2013
Dear District and County Superintendents and Charter School Administrators:
IMPLEMENTING FEDERAL NUTRITION STANDARDS IN SCHOOLS
The Healthy, Hunger-Free Kids Act of 2010 authorized the U.S. Department of Agriculture (USDA) to create regulations on national standards for all foods and beverages sold to students outside of the federally reimbursable school meal program. These items are called competitive foods and beverages as they "compete" with the school meal. The USDA regulations, known as Smart Snacks in School, were released in June 2013, and schools across the nation must implement these new rules starting July 1, 2014. I am encouraged that, at the national level, Congress and the USDA have taken this step to create standards for all schools in the nation that participate in the National School Lunch Program and School Breakfast Program.
California is a leader in restricting competitive foods and beverages sold in schools—first creating state standards in 2001—and now has some of the strictest rules in the nation. Many of the Smart Snacks in School requirements mirror those currently found in California statutes and regulations. California has the benefit of over 10 years of competitive food and beverage implementation. Over this time, schools across the state have eliminated high fat, high sugar, and high calorie foods and beverages and replaced them with healthier alternatives. With the inclusion of the new Smart Snacks in School requirements into California's current rules, we take additional steps to eliminate unhealthy foods by, among other things, decreasing sodium in foods and applying serving size limits for beverages.
I am sharing with you the attached letter, signed jointly by the USDA and the U.S. Department of Education, which highlights this bold new step, includes suggestions for successful implementation, and promotes nutrition education grant opportunities. Please share this letter with all staff who sell and approve sales of foods and beverages on your school campuses, including (but not limited to) the food service director, principals, school board members, and Parent Teacher Association and Associated Student Body members.
The California Department of Education is aware of the upcoming changes and will deliver a number of training and technical assistance opportunities across the state in the coming months. We will release additional communications within the next few months to ensure that all schools and districts know about these trainings and the new changes.
If you have any questions regarding this subject, please contact Michael Danzik, Nutrition Education Consultant, Nutrition Services Division, by phone at 916-445-7346 or by e-mail at mdanzik@cde.ca.gov.
Sincerely,
Tom Torlakson
TT:md
Attachment [http://www.cde.ca.gov/nr/el/le/documents/smartsnacksattachment.pdf] (PDF)
2013-09912
Last Reviewed: Thursday, February 9, 2017
Recently Posted in Editorials & Letters