Governor's Budget for 2014-15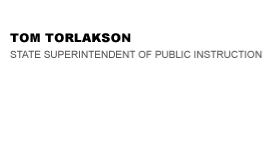 California Department of Education
Official Letter
California Department of Education
Official Letter
March 14, 2014
Dear County and District Superintendents, Direct-Funded Charter School Administrators, and County Chief Business Officers:
GOVERNOR'S BUDGET FOR 2014–15
On January 9, 2014, Governor Edmund G. Brown Jr. released his proposed budget for the 2014–15 fiscal year. This letter, prepared by the California Department of Education (CDE), provides information on the Governor's proposals that affect kindergarten through grade twelve (K–12) education and early education programs.
Copies of this document, as well as other budget-related documents, are available through the CDE Education Budget Web page at http://www.cde.ca.gov/fg/fr/eb/. Official state budget documents, including proposed trailer bill language, are available through the California Department of Finance Web site at http://www.dof.ca.gov

. The budget bills are Assembly Bill (AB) 1457 and Senate Bill (SB) 851.
Overview
The 2014–15 Governor's Budget reflects continued improvement in the state's finances. State revenues have increased significantly as a result of record gains in the stock market and continued overall improvement in the economy. General Fund revenues for 2014–15 are projected to be $104.5 billion, an increase of $4.4 billion over 2013–14 General Fund revenues.
The Governor proposes to exercise caution in allocating these increased revenues because a significant portion of these resources cannot be counted upon as ongoing revenues (e.g., capital gains tax revenues can fluctuate from year to year, and some revenue sources are scheduled to expire). His budget increases Proposition 98 funding, including increases in ongoing funding for the Local Control Funding Formula (LCFF) and other specified education programs, while using one-time funds to eliminate inter-year deferrals.
Deferrals
The Governor's Budget proposes full repayment of $5.5 billion in remaining K–12 inter-year deferrals ($1.8 billion in 2012–13, $1.5 billion in 2013–14, and $2.2 billion in 2014–15) and elimination of intra-year deferrals.
Proposition 98 Changes
The Governor's Budget proposes funding for K–12 education and California Community Colleges under Proposition 98 of $61.6 billion in 2014–15, a $6.3 billion increase over the 2013–14 Budget Act level ($4.7 billion increase over the revised 2013–14 funding level).
On a per-pupil basis, Proposition 98 spending would reach $9,194 in 2014–15, up from $8,469 in 2013–14. When all funding sources are considered, per-pupil spending would total $12,833 in 2014–15, up from $11,985 in 2013–14.
Cost- of- Living Adjustment and Growth
The Governor's Budget includes funding for a cost-of-living adjustment (COLA) and growth for some programs. Specifically, COLA is funded at 0.86 percent for LCFF and specified categorical programs that continue to be funded outside of LCFF, including special education, child nutrition, the Foster Youth Program, American Indian education centers, and the American Indian Early Childhood Education Program.
School districts and county offices of education are projected to experience a decline in average daily attendance (ADA) resulting in decreases of Proposition 98 funding in 2013–14 ($215 million) and 2014–15 ($43 million). Charter school ADA is expected to grow in 2014–15 resulting in growth funding of $74 million.
In addition, the budget includes growth funding of $2.1 million for the State Preschool Program (Proposition 98) and $2.9 million (non-Proposition 98) for other early education programs. The Governor's Budget does not include a COLA for these early education programs.
Proposed Constitutional Amendment
The Governor's Budget proposes to revise the General Fund reserve requirements of the California State Constitution and to add a reserve requirement for Proposition 98 resources. Budget documents indicate that the proposed constitutional changes are intended to address volatile revenues associated with capital gains taxes. As of this writing, the details of this proposal were not available.
Local Control Funding Formula

The Governor's Budget includes an additional $4.5 billion in Proposition 98 funding for the second year of LCFF implementation for school districts and charter schools. This level of funding includes the consolidation of two additional categorical programs within the LCFF: Specialized Secondary Programs ($4.9 million) and the Agricultural Career Technical Incentive Program ($4.1 million).
The additional funding for the second year of LCFF implementation represents an estimated 28 percent of the remaining gap needed to fund LCFF at full implementation for school districts and charter schools.
The budget also includes an increase of $25.9 million for county offices of education (COEs), which represents full LCFF funding for COEs.
The Department of Finance continues to project that LCFF target funding levels for school districts and charter schools will be fully funded at fiscal year 2020–21.
The Governor's Budget package also includes a proposal to change the statutory language governing the continuous appropriation for LCFF during implementation. The proposal is intended to provide assurance to LEAs that a certain level of funding will be committed each year toward implementing LCFF. Under this proposal, the amount available for LCFF would be based on a predetermined percentage of Proposition 98 funding so that the total dollars available would increase or decrease commensurate with the changes in the Proposition 98 guarantee.
Proposition 39: California Clean Energy Jobs Act
The Governor's Budget proposes $363 million (Proposition 98) for energy projects under Proposition 39, the California Clean Energy Jobs Act. The funds would be appropriated as follows:
$316 million to K–12 education and $39 million to community college districts for energy efficiency project grants
$5 million to the California Conservation Corps for continued technical assistance to K–12 school districts
$3 million to the Workforce Investment Board for continued implementation of the job-training program
Assessments and Common Core
The Governor's Budget proposes an increase of $46.5 million (Proposition 98) to implement the revised student assessment system aligned to the Common Core State Standards (CCSS) as outlined in Assembly Bill 484.
The 2013–14 Budget Act included a total of $1.25 billion (approximately $200 per pupil) to fund professional development, instructional materials, and technology costs associated with implementation of the CCSS and made these funds available for expenditure in the 2013–14 and 2014–15 fiscal years. No additional resources are proposed in the Governor's Budget.
Adult Education
The Governor's Budget states the intention to make an investment in the 2015–16 budget for adult education and continues the commitment to the planning process currently underway by local consortia.

Facilities and Deferred Maintenance
The budget plan includes $188.1 million for the Emergency Repair Program to provide grants or reimbursements to local educational agencies (LEAs) for repairs or replacement of building systems.
The budget package also shifts $211 million of School Facility Program bond authority from the specialized programs to core new construction ($105.5 million) and modernization ($105.5 million).
State Special Schools
The Governor's Budget includes $5 million in one-time funds to be made available for a period of two years to fund deferred maintenance projects at the State Special Schools.
Mandates Block Grant
The Governor's Budget proposes to add three additional mandates (Uniform Complaint Procedures, Charter Schools IV, and Public Contracts) to the Mandate Block Grant. The budget plan does not provide additional funding for these programs.
Independent Study/Instructional Flexibility
The Governor's Budget proposes additional flexibility for non-classroom-based independent study in grades nine through twelve and school-site-based blended learning programs in all grades. To use this flexibility, the governing board of a school district, county office of education, or charter school must adopt policies that provide for:
Annual certification that courses are of the same rigor and educational quality as a classroom-based equivalent course. The educational minutes and number of course credits for each course must be consistent with that of an equivalent classroom-based course.
Teacher-student communication at least weekly to assess whether the student is making satisfactory progress to complete the course.
Maintenance of pupil-to-teacher ratios equivalent to those of classroom-based courses for the applicable grade span unless an alternative ratio is agreed to through collective bargaining.
For school-site-based blended learning programs, daily on-site instruction under the general supervision of a teacher.
In addition, LEAs may not claim more than one total unit of ADA per year for each student enrolled in independent study.
Early Education (Formerly Child Development)
The Governor's Budget proposal does not backfill the $10 million of one-time funds included in the 2013–14 budget, which effectively reduces the program by that amount.
What's Next?
The Governor's Budget proposal contains significant proposals that will undoubtedly be the subject of debate and discussions throughout the spring. The deadline for final legislative action on the budget is June 15. The budget takes effect on July 1, 2014.

If you have any questions regarding the 2014–15 Governor's Budget, please contact the CDE Government Affairs Division by phone at 916-319-0821. You may also contact Carol Bingham, Senior Fiscal Policy Advisor, Fiscal Policy Office, by e-mail at cbingham@cde.ca.gov. [Note: the preceding contact information is no longer valid. Please contact the Government Affairs Division at 916-319-0821 for more information.]
Sincerely,
Tom Torlakson
TT:cb
NOTICE: The guidance in this letter is not binding on local educational agencies or other entities. Except for the statutes, regulations, and court decisions that are referenced herein, this letter is exemplary, and compliance with it is not mandatory. (See Education Code Section 33308.5.)
Last Reviewed: Tuesday, September 27, 2016
Recently Posted in Editorials & Letters