Save Our Water Campaign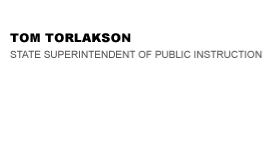 California Department of Education
Official Letter
California Department of Education
Official Letter
March 25, 2014
Dear Kindergarten through Grade Twelve School Principals:
SAVE OUR WATER CAMPAIGN
With California facing its driest year on record, Governor Brown has declared a drought State of Emergency [https://www.ca.gov/archive/gov39/2014/01/17/news18368/index.html]

and has directed State officials to take all necessary actions to prepare for water shortages. Our economy, our environment, and our day-to-day lifestyles need water to thrive, however the lack of rain and snow this year means that our water supply may not be at a level to meet the many needs of the State. It is critical that conservation measures be taken to help us stretch the water that is available. Schools can play an important part in this effort.
Schools occupy a lot of land across the state and have extensive irrigation and plumbing systems. Members of the school community, especially students, can help monitor unintended water waste by reporting leaks around campus, running toilets and faucets, and sprinklers that are over spraying onto sidewalks and playgrounds. Students, staff, and faculty can all incorporate water saving habits while on campus, such as not letting the water run during hand washing and bringing reusable water bottles to school.
During this current water crisis, I would like to encourage schools to think about long-term solutions to water use. Consider moving to drought-tolerant landscaping (xeriscaping) wherever possible, and use the mulch produced by school or city composting programs to spread around existing plantings to reduce water loss due to evaporation. Enlist your students to come up with their own ideas of how to save water on your campus.
There are many educational resources available to help teachers incorporate water conservation into the curriculum. The Department of Water Resources hosts the Save our Water Web site at http://saveourwater.com/, with links to educational activities and materials. Teachers can attend any of a number of one-day Project Water Education for Teachers trainings being hosted around the state this spring to learn how to incorporate engaging standards-aligned activities in their classrooms. Please visit the Water Education Foundation Web site at http://www.watereducation.org/. I also encourage you to visit the California Regional Environmental Education Community Network for a list of water related activities and resources available in your region at http://www.creec.org/.
If we all work together, we can make a difference in conserving California's most important natural resource, its water.
Sincerely,
Tom Torlakson
2014-02698
Last Reviewed: Friday, March 27, 2020
Recently Posted in Letters