Changing Common Core Name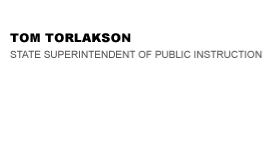 California Department of Education
Official Letter
California Department of Education
Official Letter
May 7, 2015
Dear County and District Superintendents and Charter School Administrators:
CALIFORNIA STANDARDS
I want to let you know that I have changed the way I refer to our new academic standards in speeches and written materials. I am no longer using the term "Common Core." Instead, I am calling them the new "California Standards."
As you know, I am a strong supporter of the new standards in English language arts and mathematics and believe they are going a long way toward updating our education system to meet the challenges of the 21st century. But I believe the term "Common Core" has outlived its usefulness.
Why? It confuses some people and has polarized people in other parts of the country.
But more importantly, it doesn't tell the whole story. It only includes English language arts and math. By contrast, the term "California Standards" covers not only English language arts and mathematics but all subject areas including science (or the Next Generation Science Standards), English language development, history-social science, health, physical education, visual and performing arts, and career technical education.
In addition, it conveys the context for these standards, making it clear they have been developed and reviewed by California educators.
Further, I frequently refer to the new California Standards as "rigorous" to indicate that we are upgrading virtually all of the key subjects California students need to succeed in 21st century careers and college.
The term and brand "Common Core" will be with us for some time, but I want to share my thinking about how I describe some of the exciting changes we are implementing together to transform education in California. Working together as a team, we are creating the new "California Way" and building on the huge assets present in our students, teachers, and districts statewide.
Sincerely,
Tom Torlakson
TT:ba
2015-03236
Last Reviewed: Wednesday, June 5, 2019
Recently Posted in Editorials & Letters
Supporting the Directing Change Program (added 11-Dec-2019)
Letter to County and District Superintendents, Charter School Administrators, and Middle and High School Principals regarding support for the annual Directing Change Program and Film Contest.