September Attendance Awareness Letter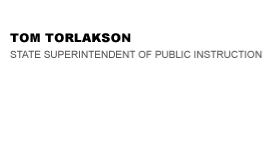 California Department of Education
Official Letter
California Department of Education
Official Letter
August 21, 2015
Dear County and District Superintendents and Charter School Administrators:
SEPTEMBER ATTENDANCE AWARENESS MONTH:
ENGAGING COMMUNITIES TO REDUCE CHRONIC ABSENCE
As you welcome students back to school, I encourage you to join me in informing schools, families, and community partners about the importance of school attendance—and that every day counts! The campaign for September Attendance Awareness offers a prime opportunity to promote this awareness about the value of each instructional minute.
Families often do not realize how quickly absences can add up, and the start of a new school year is the time to build awareness about the connection between attendance and school success.
We can share the message that children will learn and succeed in the classroom when we remove barriers to attendance, establish good attendance patterns, and celebrate success in punctual and improved attendance. A great resource for positive messaging and attendance incentives is the "Count Us In Toolkit" found on the Attendance Works Web page at http://awareness.attendanceworks.org/resources/toolkit/.
Below are additional resources for you to consider in back-to-school nights or a parent summit:
Attendance also improves when schools closely monitor chronic absence and engage in personalized early outreach and support to students. Many of our Model School Attendance Review Board (SARB) programs have had great success by monitoring chronic absenteeism by grade level, ethnicity, and special programs to identify groups at risk and provide targeted early interventions. Using baseline chronic absence data enables you to closely monitor progress and set goals aligned with your Local Control and Accountability Plan (LCAP).
Together we can give all children an equal opportunity to learn by using chronic absence data to ensure that our students are in the classroom. These three steps can help you improve your system of attendance supervision:
If you have not already done so for your LCAP, use your chronic absence data to identify which schools and student populations have the highest chronic absence rates. California Education Code Section 60901 defines a chronic absentee as a student who has missed 10 percent or more of school days for any reason, including unexcused or excused absences and suspensions, during the days enrolled. Remember that chronic absence is different from truancy. In California, truancy is defined in Education Code Section 48260 as missing three days of school or being more than 30 minutes late to class without a valid excuse three times in one school year.
You may also share the aggregate data on chronic absence rates with your SARB so that SARB members can help identify and address the common causes for high chronic absence rates, including transportation issues or lack of access to health care. Encourage SARB members to engage community partners, especially volunteers and businesses, in providing attendance incentives that reward students for good and improved attendance. The SARBs also can enlist partners from public health, behavioral health, law enforcement, and social services to assist your schools when families need to be linked to community services.
Use your data to identify students with a past history of poor attendance who could benefit from positive personal engagement and extra support at the start of the school year. Link them to positive prevention-oriented supports (for example, an authorized enrollment center for Covered California which includes medical, vision, dental, and mental health support or a nonprofit outreach organization that provides after-school activities and family support).
If you would like more resources from Attendance Works, visit the Superintendents Call to Action Web page at http://www.attendanceworks.org/superintendents-call-to-action/ where you can become part of the attendance awareness network.
I encourage you to begin this new school year with a winning collaborative, data-driven strategy to address chronic absence and celebrate the positive results.
If you have any questions regarding this subject, please contact David Kopperud, Education Programs Consultant, Educational Options, Coordinated Student Support Division, and American Indian Education Office [Note: this contact now works in the College and Career Transition Division], by phone at 916-323-1028 or by e-mail at dkopperud@cde.ca.gov.
Sincerely,
Tom Torlakson
TT:dk
2015-05248
Last Reviewed: Thursday, May 7, 2020
Recently Posted in Letters