Equity and Digital Materials SSPI Letter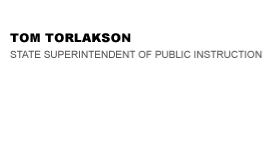 California Department of Education
Official Letter
California Department of Education
Official Letter
November 13, 2015
Dear County and District Superintendents and Charter School Administrators:
EQUITY AND DIGITAL MATERIALS
California's continued leadership in technology makes it critical that we provide our students with the materials and technology for success in the 21st century. At the same time that we advance our use of new education technologies, however, we must also address equity issues, particularly in light of the digital divide that precludes many of our students and their families from fully accessing digital and Internet-based materials.
California's Local Control Funding Formula (LCFF) provides local school districts the opportunity to innovate and respond to local conditions through the development of Local Control Accountability Plans. The LCFF, by providing additional funds to those who need it most: foster youth, English learners, and those from low-income families, aims to make sure all students receive a high-quality education.
As districts develop and implement plans to use electronic instructional materials and provide learning environments that include e-curriculum, it is important to simultaneously address the Williams Settlement "sufficiency" standard for instructional materials. This requires that all students have access to standards-aligned textbooks or instructional materials in the core subjects for use in class and to take home.
Fortunately, in California, many districts have successfully introduced digital materials and curriculum while still meeting the sufficiency standard. For information on districts that have gone digital, please contact one of the following leading digital districts: Napa Valley Unified, Laguna Beach Unified, or Riverside Unified. These bright spots serve as lights of encouragement and guidance for our state. The California Department of Education (CDE) seeks to be the vital link in supporting districts to work together to implement innovative approaches to the introduction of digital technologies and materials, sharing learning, and helping each other address challenges statewide.
California has a history of excellence and innovation that will allow us to both innovate and address the challenging equity issues we face. We must provide the leadership and initiative to guarantee all students access to learning materials and environments that prepare them for tomorrow.
Sincerely,
Tom Torlakson
TT:gp
Last Reviewed: Monday, January 04, 2021
Recently Posted in Letters
2021 Classified School Employees of the Year (added 23-Feb-2021)
Letter to County and District Superintendents and Charter School Administrators regarding the 2021 Classified School Employees of the Year Program.
2021 National Youth Science Camp (added 22-Feb-2021)
Letter to County and District Superintendents, Charter School Administrators, and High School Principals regarding the 2021 National Youth Science Camp.