Every Student Succeeds Act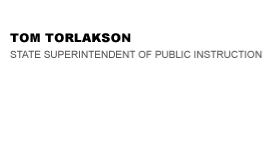 California Department of Education
Official Letter
California Department of Education
Official Letter
January 13, 2016
Dear Ms. Spitz:
We appreciate the opportunity to provide recommendations about the implementation of the Every Student Succeeds Act (ESSA) to further the work underway in our state.
California has shifted from a compliance-based system to a coherent funding and accountability system based on continuous improvement. The Governor, lawmakers, teachers, administrators, parents, equity groups, higher education officials, business leaders, and community organizations are working collaboratively in support of this new accountability system and efforts to build capacity for educators and improve outcomes for all students.
California's new system gives school districts greater discretion over spending decisions while holding them accountable for results. The new system focuses on ensuring greater resources for programs and services for students with the greatest needs. It does not focus solely on test scores; instead, it requires schools and districts to set goals and allocate spending resources according to state and local priorities. Rubrics now being developed by the California State Board of Education will help identify strengths and areas in need of improvement in local district plans. County offices of education, the California Department of Education, and the newly established California Collaborative for Education Excellence will provide technical assistance and intervention for schools in need of additional support.
California's investment in education is significant. The investment of state funds in education is expected to grow to $71.6 billion in 2016–17, with an additional $7 billion in federal dollars (10 percent of the state's investment). Maintaining the ability to use all of these funds to do what is best for our students and schools is a priority.
The California State Board of Education and California Department of Education urge the U.S. Department of Education to grant states wide discretion as regulations are developed for ESSA. As guidance is provided and the required components of ESSA evolve through the regulatory process, flexibility is paramount for states like ours that are already far along in redesigning our accountability system. Specifically, we recommend the following approach:
Regulations should avoid specifying any particular metric or approach to measurements of progress and should allow for states to assess progress toward their long-term goals in any manner that they choose. Continuous improvement should be supported as an approach.
Regulations should not assume or require that differentiation must be based on a single index or a grading system. A multiple measures approach to examining school performance should be anticipated and protected.
Regulations should not assume that "weight" necessarily means a numerical indicator averaged with others into a single metric. Giving weight to an indicator may be accomplished by ensuring that it receives significant attention in the differentiation system.
Regulations should not assume that the assessment of "lowest-performing" is based only or largely on test scores. States must be free to look at the full range of multiple measures they use in evaluating school performance.
Regulations should allow states to target school districts, not just schools, for comprehensive support and improvement since building capacity at the district level is critical.
Regulations should accommodate both standardized tests that use multiple forms or are adaptive and robust performance measures.
Regulations should allow for states to use scale scores that measure performance and improvement for the full range of students rather than a single cut score such as that previously labelled "percent proficient." In addition, in a competency-based system, regulations should allow student performance to be reported in relation to competencies rather than traditional "grade levels."
Our goal is to ensure options are available to California as our new accountability system continues to evolve. We look forward to working with you to address solutions to the many important policy and implementation decisions ahead.
Sincerely,

Tom Torlakson
State Superintendent of Public Instruction

Michael W. Kirst
President
California State Board of Education
TT/MK:jw
Last Reviewed: Monday, May 11, 2020
Recently Posted in Letters