New Groundbreaking Accountability System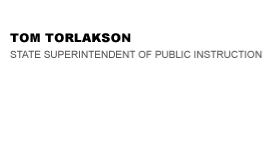 California Department of Education
Official Letter
California Department of Education
Official Letter
January 19, 2017
Dear County and District Superintendents and Charter School Administrators:
CALIFORNIA LAUNCHES NEW GROUNDBREAKING ACCOUNTABILITY SYSTEM
We are pleased to let you know that California is about to launch its groundbreaking accountability and continuous improvement system to help evaluate student progress in schools and districts.
As you know, California is at the forefront nationally in using multiple measures of student success for district and school accountability. This provides a more complete picture of how schools are meeting the needs of the students they serve. Equity is at the heart of the new accountability system, with an increased focus on addressing disparities among student groups across the multiple measures.
These changes are part of the Local Control Funding Formula (LCFF), enacted in 2013, which significantly changed how California provides resources to public schools and holds local educational agencies (LEAs) accountable for improving student performance. LCFF includes eight priority areas for school districts and charter schools that define a quality education more broadly than a single test score.
LCFF also requires that the State Board of Education (SBE) adopt a new accountability tool, called evaluation rubrics, which consider all LCFF priority areas. At its meeting on January 11, 2017, the SBE finalized the details for the initial phase of the accountability tool that will be used during the current year before the new accountability system is fully operational in 2017-18. In contrast to the performance targets that were in place under No Child Left Behind, the State Board approved realistic performance standards that take into account the present range of performance statewide and incorporate improvement as part of a district's or school's overall performance.
Educators, parents, and stakeholders will be able to track school and district progress on the concise set of measures included in the new accountability tool through a new online system called the California School Dashboard. Like a dashboard, it will provide information on a concise set of measures critical to student performance, which are summarized below.
Concise Set of Measures in New Accountability and Continuous Improvement System
State Indicators
Local Indicators

College/career readiness

Graduation rates

Test scores

English learner progress

Suspension rates

Chronic absenteeism (to be added when data become available next year)

Basic conditions at schools

School climate

Parent engagement

Progress in implementing academic standards

Coordination of services for foster youth (county office of education only)

Coordination of services for expelled youth (county office of education only)

The Dashboard will include a set of easy-to-use reports that will help parents, educators, and the public evaluate schools and districts, identify strengths and weaknesses, and allow targeted assistance to be given to districts and schools that need extra help. It will greatly assist efforts to improve equity by identifying student groups that may be struggling on one or more state measures.
Building the California School Dashboard and implementing the new accountability system for more than 11,000 schools is a monumental task and it is not over. Our progress would not have been possible without the dedication, hard work, and commitment you and your staff have provided. You are all part of what we call the California Way—working together for positive change in education.
You will receive additional information about the Dashboard in the coming weeks, including how your staff can obtain user credentials to access the Dashboard during a private preview for local educational agencies planned for February 2017 before the Dashboard's public launch in March. This will include resources explaining key aspects of the Dashboard design; the features that will be available during this transitional year; technical details about the measures included in the Dashboard and how performance is calculated; and information about trainings and webinars that the California Department of Education and other statewide partners will provide. There will also be a toolkit to support communication about the Dashboard and California's new accountability system with your local stakeholders.
The Dashboard's design has evolved from the sample screenshots presented to the State Board in September 2016 and used in trainings by the California Collaborative for Educational Excellence in November 2016. The design will continue to be refined based on user testing that will continue through the February preview period, and we plan to continue making improvements in future years.
In addition to adopting the new accountability tool, the SBE revised the LCAP template. The improvements are in the areas of accessibility, transparency, and supporting local educational agencies in communicating with stakeholders about the priorities reflected in their local accountability plans. Use of the two tools—the revised template and the California School Dashboard—will be complementary. We expect that the information provided through the Dashboard will assist you in developing your local plans and engaging stakeholders through the planning process.
Finally, California is committed to creating a single system for state and federal accountability purposes that is based on the LCFF. The state measures included in the new accountability tool will be used to meet school-level accountability requirements under the federal Every Student Succeeds Act. Additional details will be addressed in the state plan that the State Board of Education will approve in fall of 2017.
This is an exciting time for education in California. We are changing what students learn, how they are tested, how schools are funded, and how schools and districts are evaluated and supported. All of these changes are designed to upgrade our education system so that we can prepare our students for 21st century careers and college.
Again, we thank you for your help and ask for your patience and further assistance as we roll out the California School Dashboard and continue refining other aspects of our education system.
Sincerely,
Tom Torlakson
State Superintendent of Public Instruction
California Department of Education
Michael W. Kirst
President
California State Board of Education
TT/MK:ds
2017-00441
Last Reviewed: Thursday, March 5, 2020
Recently Posted in Editorials & Letters