Schools to Watch™—Taking Center Stage Application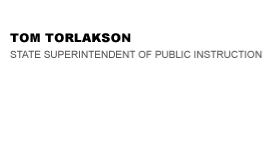 California Department of Education
Official Letter
California Department of Education
Official Letter
May 19, 2017
Dear County and District Superintendents, Charter School Administrators, and Middle School Principals:
2017–18 SCHOOLS TO WATCH™—TAKING CENTER STAGE PROGRAM
I am pleased to announce that the California Schools to Watch™—Taking Center Stage (STW™—TCS) application process for 2017–18 is now open.
STW™—TCS identifies model middle grades schools that are academically excellent, developmentally responsive, socially equitable, and have a culture of strong collaborative leadership while substantially increasing student academic achievement. Although numerous schools in California meet the minimum eligibility criteria, not all schools that apply will be selected for visitation or designation as STW™—TCS schools.
For the 2017–18 STW™—TCS application, please use the following eligibility criteria:
Schools must show evidence of growth in student achievement from 2013–14 to the current school year as evidenced by a combination of available academic assessment scores and other state and local achievement data.
Schools must verify that they are not being state monitored and do not have any unanswered or ongoing civil rights violations.
Schools where a confirmed adult testing irregularity occurred are ineligible to apply for one year following the incident.
After eligibility is secured, the final selection of schools will be based on how well the school addresses the STW™ criteria in the School Self-Study and Rating Rubric developed by the National Forum to Accelerate Middle Grades Reform, the requirements of the STW™—TCS Application, and the site visit by the STW™ visitation team.
California has participated in the STW™—TCS program since 2002 with the support and participation of members of the California Middle Grades Alliance. In a collaborative effort, schools are designated to serve as models for challenged middle grades schools whose educators are seeking best practices for their own young adolescent students to increase whole-child success. Please visit the California League of Middle Schools (CLMS) STW™—TCS Web page at http://www.clms.net/stw/schools.htm to view the 79 current model school profiles.
The CDE and CLMS developed several useful documents to complete the application process. Please access the Principal's Checklist, application, and STW™ School Self-Study and Rating Rubric documents, developed by the National Forum to Accelerate Middle Grades Reform, on the CLMS California STW™—TCS High Performing Middle School Models Web page at http://www.clms.net/stw/.
The California Middle Grades Alliance is a cross-organizational collaborative dedicated to providing policy support for California's 1.5 million middle grades students. It is comprised of the CDE, Advancement Via Individual Determination of California, Association of California School Administrators, Middle Grades Council, CLMS, Middle Grades Partnership Network, California School Boards Association, STW™—TCS, California State Parent Teacher Association, California Teachers Association, and Gaining Early Awareness and Readiness for Undergraduate Programs.
2017–18 applications are due by Tuesday, October 10, 2017. Please note that schools that self-select their student population or have special entry requirements for students to attend the school cannot be considered for a STW™—TCS designation.
If you have any questions regarding this subject, please contact David Militzer, Education Programs Consultant, High School Innovations and Initiatives Office, by phone at 916-323-5146 or by e-mail at dmilitzer@cde.ca.gov.
Sincerely,
Tom Torlakson
TT:dm
2017-03674
Last Reviewed: Thursday, November 15, 2018
Recently Posted in Editorials & Letters