Annual Mandated Reporter Training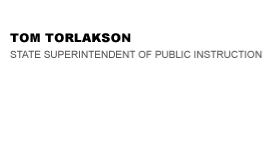 California Department of Education
Official Letter
California Department of Education
Official Letter
September 1, 2017
Dear County and District Superintendents, Charter School Administrators, and School Principals:
ANNUAL MANDATED REPORTER TRAINING
I have previously communicated with you regarding anti-bullying and anti-discrimination efforts at local educational agencies (LEAs), especially in the face of the recent Trump administration immigration orders. It is important to ensure that discussions and actions for ensuring the safety and security of students take place at your schools.
As a further effort to promote student safety, I remind LEAs of their obligations to have staff complete mandated reporter training. Per AB 1432 and Education Code Section 44691, county offices of education (COEs), school districts, charter schools, state special schools, and California Department of Education (CDE) diagnostic centers must provide annual training to their employees in child abuse detection and mandated reporting obligations under the Child Abuse and Neglect Reporting Act. This training will assist staff in recognizing child abuse or neglect and remind staff members to report any suspicion of abuse immediately to local law enforcement and Child Protective Services as required by law. The mandatory obligation to report abuse and neglect is crystal clear and must be followed by all required school personnel.
While all mandatory reporters must complete training annually, I also recommend a mid-year refresher training. With large staff turnover in the past five years statewide, we must capture the attention of all new employees and administer training as soon as possible after hiring. Districts that do not train staff are required to report to my office why this training was not completed.
I advocated for the funding to develop updated, more effective online training in 2014 that has been used widely throughout the state. To date, over 200,000 school staff members have successfully completed the training modules for educators and received their certificates of completion using the online training program available at http://mandatedreporterca.com/training/educators.htm.
You will also find the introductory video on Mandated Reporting of Child Abuse that we produced in partnership with the California Department of Social Services at https://www.youtube.com/watch?v=WunricaVsLo. Additional resources regarding California Education Code Section 44691(b).
mandated reporting obligations are on the CDE Child Abuse Prevention web page at www.cde.ca.gov/ls/ss/ap/.
I also want to remind schools of the obligation to have a comprehensive school safety plan in place which, by law, must address child abuse reporting procedures. Plans must be reviewed on an annual basis and submitted to the school district or COE for approval. Each school district or COE shall notify the CDE by October 15 of any schools that have not complied with the provisions of the School Safety Plans as set forth in Education Code Section 32281.
As we all know, safety in our schools is paramount. Students cannot learn if they feel unsafe. A positive school climate is based on knowing that teachers and other staff are constantly watching over our children at school.
I invite your suggestions on how we can all take stronger steps to ensure the safety of our students. If you have questions regarding this letter, please contact Nancy Zarenda, Education Policy Consultant, School Health and Safety Office, by email at NZarenda@cde.ca.gov or by phone at 916-916-445-8441.
Sincerely,
Tom Torlakson
TT:bm
2017-06425
Last Reviewed: Friday, September 18, 2020
Recently Posted in Letters