Federal Tax Bill Changes that Hurt Teachers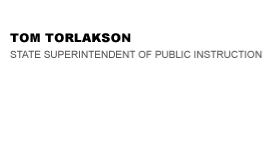 California Department of Education
Official Letter
California Department of Education
Official Letter
December 12, 2017
The Honorable Virginia Foxx
Chairwoman
House Committee on Education and the Workforce
2176 Rayburn House Office Building
Washington, D.C. 20515

The Honorable Bobby Scott
Ranking Member
House Committee on Education and the Workforce
2101 Rayburn House Office Building
Washington, D.C. 20515

Dear Chairwoman and Ranking Member:
As head of California's public school system, which serves more than 6.2 million students, I strongly believe the current proposal to reauthorize the Higher Education Act would harm our students by making it more difficult to recruit and retain teachers, adding to the severity of California's teacher shortage.
Specifically, the Promoting Real Opportunity, Success, and Prosperity through Education Reform (PROSPER) Act, recently introduced in the U.S. House of Representatives, would eliminate the Public Service Loan Forgiveness (PSLF) program. The PSLF program allows for eventual loan forgiveness for student borrowers who take up careers in public service, including graduates who choose to become teachers. It was designed to inspire college graduates to serve the public in crucial roles like teaching, which often face a shortage of qualified candidates because they do not pay as well as other careers. Eliminating this program would exacerbate the shortage of qualified public school teacher candidates in California and probably many other states.
California needs about 20,000 newly credentialed teachers a year, but each year for the past three years, starting in 2013–14, there has been a shortage of 8,000, according to the Learning Policy Institute (Institute), a non-profit research organization. Shortages are especially significant in the fields of math, science, special education, and bilingual education. According to the Institute, well-designed loan forgiveness programs can aid the recruitment and retention of talented teachers in high-need areas and locations.
Congress should be working to find ways to encourage graduates to pursue careers in public service roles, like teaching, instead of eliminating programs that reward graduates who choose to give back to their communities by entering a public service career. Over half a million graduates have signed up for the PSLF program since its inception, making career decisions based on the availability of these loans.
For these reasons, I strongly oppose the elimination of the PSLF program and urge lawmakers to preserve it. I look forward to working with Congress to ensure that our nation's children have the opportunity to learn from the best and brightest teachers and that our nation's graduates are inspired to serve the public by entering the teaching profession.
If you have any questions or wish to discuss this issue further, please do not hesitate to contact Marguerite Ries, Federal Policy Liaison, by phone at 916-319-0650 or by e-mail at mries@cde.ca.gov.

Sincerely,
Tom Torlakson
TT:mr
cc: California Congressional Delegation
Last Reviewed: Tuesday, November 5, 2019
Recently Posted in Editorials & Letters