CA Labor-Management Initiative Summer Institute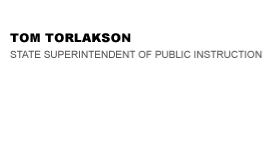 California Department of Education
Official Letter
California Department of Education
Official Letter
May 15, 2017
Dear County and District Superintendents:
CALIFORNIA LABOR-MANAGEMENT INITIATIVE SUMMER INSTITUTE
We all know that partnership and teamwork are critical to the success of California's schools and districts. Since the launch of the California Labor Management Initiative (CA LMI) in 2015, school districts across California have engaged in the critical work of building labor-management partnerships. The CA LMI provides a venue to bring together teams of board members, administrators, and union representatives, so they can learn together and build trust and relationships that lead to the success of California's schools and districts.
That is why I am inviting you and your labor management team to join me at the California Labor-Management Initiative Summer Institute, June 20-21, 2017, at the San Diego Doubletree Hotel Mission Valley. This is an opportunity to convene with your labor-management team to learn from other districts, share insights, and plan your work for the coming school year. You will be joined by national education leaders Michael Fullan (http://michaelfullan.com/) and Pedro Noguera (https://gseis.ucla.edu/directory/pedro-noguera/). The conference will feature concurrent workshop sessions on topics requested by districts and feature presentations by school districts that have made significant strides by making collaborative partnerships a priority over the past few years.
June 19 will be a pre-conference day for districts and team members new to the CA LMI to become oriented with the work and take their initial steps toward developing labor-management partnerships prior to the Summer Institute programming.
The CA LMI is proud to present the Summer Institute with a strong coalition that includes the California Department of Education, Californians Dedicated to Education Foundation, Association of California School Administrators (ACSA), California Federation of Teachers (CFT), California School Boards Association (CSBA), California School Employees Association (CSEA), the California Teachers Association (CTA), and the California County Superintendents Educational Services Association (CCSESA).
To foster continuous improvement in public schools, the CA LMI focuses on building the collective knowledge base for supporting local labor-management collaborations in California. Emerging research is showing the powerful impacts of these collaborative partnerships on student achievement and staff retention.
All interested school districts in California are invited to attend the Summer Institute. If you and your colleagues have an interest in learning more about the benefits of labor-management partnerships, we hope you will attend, even if you have no prior experience with this approach. Please register by May 26, 2017. Registration is free for your first five team members.
Please forward this invitation to your School Board President, Certificated and Classified Union Presidents and other key staff you would like to participate.
If you have questions about the Summer Institute, please contact Ed Honowitz by phone at 818-321-6741 or by e-mail at ed@cdefoundation.org.
I hope this convening will give your district team the opportunity to begin building or improving future collaborative activities and will connect you with peer districts, school board leaders, superintendents, and union leaders to share your experiences. I know that by working together we can accomplish great things for the students we serve.
Sincerely,
Tom Torlakson
State Superintendent of Public Instruction
TT:df
Enclosure: Summer institute Flyer [http://cdefoundation.org/lmi/wp-content/uploads/2017/05/Summer-Institute-Flyer_Updated-Link_050917nb1.pdf]

(PDF)
PS: If you have not done so already, please go to the CA Labor Management Initiative Web page at http://cdefoundation.org/lmi/ and sign up on the email list to receive timely updates and invitations to future events.
More information about the work of the Initiative is available on the Labor Management Initiative Web page at http://cdefoundation.org/lmi/.
Last Reviewed: Thursday, November 15, 2018
Recently Posted in Editorials & Letters