SAC CCELP Letter to Governor Brown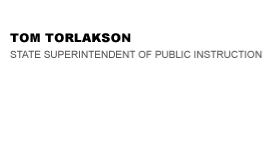 California Department of Education
Official Letter
California Department of Education
Official Letter
May 9, 2014
The Honorable Edmund G. Brown, Jr.
Governor of California
State Capitol, Suite 1173
Sacramento, CA 95814
Dear Governor Brown,
On behalf of the members of the State Advisory Council on Early Learning and Care (Council), we are pleased to provide you with advice in this policy area, consistent with our federal mandate under the Head Start Act. In 2013, the Council released the California Comprehensive Early Learning Plan (CCELP). This plan was developed over many months, with input from several thousand stakeholders all across California. It described the key drivers and numerous components that would constitute a comprehensive quality early learning environment for children in California, should California wish to move further in this direction. The CCELP provides the foundation used by the Council to develop the items addressed in this letter.
There historically has been in California a discussion regarding whether the purpose of early learning and care is school readiness, or is a work support service for families. We would point out that these two things are not mutually exclusive. While parents are working, which is the usual reason that kids are in early learning and care programs, the children still should benefit from the time spent in care. Their care therefore should be developmentally and linguistically appropriate for the developmental stages of each child, which in turn requires informed parental decisions about early learning and care settings, and an adequately prepared workforce to provide that care.
The Council recognizes that there are inherent trade-offs in any decision. For example rates: eligibility, access, utilization, and funding sources, all are factors that must be considered in the design of any system. In early learning and care, there also is a balance between broadly available access, and the higher costs usually associated with high quality care settings. Further, various policy goals can be met either through targeted or system-wide approaches.
Earlier this month, the Council met to finalize its advice, which is grouped below in the areas of fiscal, administrative, and workforce. The Council deliberately focused its advice on the issues we believe are most pressing and feasible, but acknowledges that there always are many more demands and interests than time and available resources can address. The absence of those issues from our advice, therefore, is not a reflection of their individual or collective need, merit or importance.
Fiscal Issues
Federal law requires all states to conduct a biennial market rate survey of the rates charged by child care providers to families that pay out-of-pocket for their child's care. This is known as the Regional Market Rate (RMR) survey, and is used to ensure that the rates charged to families receiving subsidized care do not exceed the rates paid by unsubsidized families for the same care. While the survey is conducted every two years, federal law does not require that the survey actually be implemented. As a result, due to recent fiscal constraints, California currently uses the 2005 RMR survey to establish reimbursement ceilings for subsidized care.
The 2005 survey is nearly a decade old because it is based on data collected in 2003 and 2004. The result of using old data to establish reimbursement ceilings is that subsidized families have less choice of care settings than they previously had. Access to and quality of early learning and care is a foundational element of family self-sufficiency. Implementing the 2007, 2009, or 2012 RMR survey would result in reimbursement ceilings for subsidized care that are closer to current privately paid provider rates and thus allow families increased access to early learning and care, especially higher quality providers. Lower subsidy rates also restrict compensation for well-trained providers who forgo serving in subsidized programs because the compensation is not commensurate with their training and education.
Additionally, the California Department of Education (CDE) contracts with center-based early learning and care providers to secure a specified number of slots for low-income families. Center-based providers under contract with the CDE are required to meet quality program standards. Centers are reimbursed at the Standard Reimbursement Rate (SRR), which is a fixed reimbursement rate set annually in the Budget Act. The SRR has not received an annual cost of living adjustment since the 2007-08 fiscal year, and in a number of counties now is lower even than the RMR rate ceilings despite the higher staff qualifications and training requirements and other costs of operating a high quality center. Raising the SRR to at least be commensurate with the RMR in all counties would be an investment in the State's highest quality early learning and care setting, would enable these centers to remain open and encourage their expansion, and thus would increase access of subsidized families to quality early learning and care.

Administrative Issues
The CCELP identifies family engagement as another key component of a quality early learning and care system. Family engagement involves establishing partnerships between families, providers, system leaders and other professionals. The CCELP also identifies family-friendly access to quality learning and care as a critical element of a successful quality early learning and care system.
High quality early learning programs can have a strong impact on future school performance, but many of California's youngest children lack access to high quality programs. Further, priority access to quality services should be given to families with the greatest needs, as significantly documented in research that such children show the most advancement and society overall thus receives the most benefit for its investment.
To improve access to high quality programs, families need better information about the early learning and care opportunities available to them. That care also needs to be convenient to the family in terms of location and hours of care (including before and after school, evenings, weekends, and other non-traditional hours). Families also need information about the benefits to their children of high quality care. High quality care should support the diverse make-up of California's children, including dual language learners and children who live in homes where English is not the primary language.
To meet the needs of children and families, provide access to quality programs, and provide families with easily understood culturally sensitive information needed to select appropriate care settings, the administration of California's early learning and care system should be simplified. The CDE and other state agencies have ongoing efforts to create and implement effective streamlined policies through input from families and providers regarding state policies and practices and operational issues. The Council is willing to support and expand these efforts.
For example, the eligibility renewal process is being examined for opportunities to reuse forms and information if they remain accurate, and to focus documentation and verification requirements on crucial items that can be submitted easily. Additionally, pending regulations for the federal Child Care and Development Fund that supports most early learning and care programs are expected to establish a 12-month eligibility period (versus the current monthly period) in order to allow children and families to provide continuity of care for children, and decrease administrative burdens for families and providers. These pending regulations also are expected to provide an opportunity to revisit background check provisions for providers.
Additionally, many families receiving subsidized early learning and care services also access other public programs. Processes that link families with these other programs can be created or improved. For example, referrals to Covered California can facilitate family access to essential health programs. Work also could be done to create a multi-program application inclusive of early learning and care that is accessible and available in languages other than English. To the extent that there is interest in such horizontal integration opportunities, the CDE and CDSS could be requested to collaborate in such work.
Finally, the introduction of family fees in the part day California state preschool program (CSPP) has had mixed results. These fees were estimated by the Legislative Analyst's Office to generate approximately $20 million per year in the state budget and are used to create more capacity to serve additional children. Some families, however, have found these fees difficult to afford, and many providers have indicated that collection and administration of these fees have imposed additional burdens on them. Given these disparate impacts, additional consideration of this issue by the State and program stakeholders is worthwhile.
Workforce Issues
One of the key drivers identified by the CCELP is "a great early childhood workforce". In the past five years, the CDE has collaborated with the community colleges and the California State University (CSU) to make significant progress in creating a well-educated workforce.
Curriculum and Credentials
For example, California has detailed Early Childhood Educator Competencies that address all levels of professionals in the early learning field from entry-level classroom aides to researchers and college faculty. The workforce and early learning and care providers both would benefit from imbedding these competencies into the Child Development Permit, which has not been revised in twenty years. This would help align coursework leading to the permit, as well as create a clearer linkage between the permit and a teaching credential.
Similarly, California has made huge strides in clarifying the pathways from one community college to another, and from the community colleges to the CSU. Currently, 75 percent of colleges with early childhood education (ECE) programs have their basic eight courses fully aligned, with shared course descriptors and defined student learning outcomes. However, this alignment too is not yet reflected in teaching and administrative credentials, which do not require coursework specific to early education. This is a particular issue for early learning programs within school districts, which require the administrator to hold an administrative credential without any knowledge of the specific educational and administrative needs of early learning and care programs.
California is currently one of the seven states without an early learning credential, although California did have one in the past. The Commission on Teacher Credentialing (CTC) currently is exploring the reinstatement of an early learning / birth-through-third-grade credential. This effort would support and reinforce the efforts described above, in a targeted way for the early learning and care workforce.
Campus Laboratory Classrooms
An important aspect of workforce education and training occurs in actual early learning and care settings. A number of colleges in California have centers on their campuses which provide early learning and care services for children whose parents are attending school, while also serving as practicum classrooms for ECE students. As mentioned above in the fiscal section, these centers usually are funded by an SRR that presently is too low to cover their costs. As a result, in the past few years twelve college laboratory programs have closed and 48 percent have reduced their infant-toddler programs. These changes have reduced the capacity of California's higher education system to educate the workforce, and have reduced parental access to high-quality care as well.
In addition to their work with children and families, teachers in the lab schools must work with ECE students to plan and implement curriculum and observe and evaluate students. The Education Code requires that the teachers who supervise students that are completing their practicum must have a Child Development Permit at the Master Teacher Level or higher; this is more than what is required of teachers in other Title 5 programs. Some colleges have suggested that this additional fiscal burden for laboratory classrooms could be addressed by having a differentiated fiscal adjustment factor above those allowed for other Title 5 programs. The Council notes that such laboratory classrooms provide a valuable dual purpose in California, which led to their inclusion here.
As co-chairs of the Council, we are grateful for the thoughtful input provided by members of the Council and by the public that contribute to our regular meetings. The Council collectively appreciates the opportunity to provide this information for your consideration, and hope that it is useful in informing future decision-making about the purpose, structure, and funding of early learning and care in California. Any of us would be happy to provide further information on these topics.
Sincerely,
Pete Cervinka
California Department of Social Services
Debra McMannis
California Department of Education
Last Reviewed: Monday, April 10, 2017
Recently Posted in Child Development