CMA Use for Reclassification Letter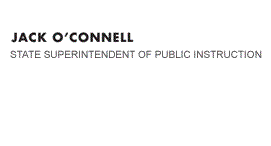 California Department of Education
Official Letter
California Department of Education
Official Letter
Dear Categorical Program Directors, Title I Coordinators, Title III Coordinators, California English Language Development Test District Coordinators, and Special Education Local Planning Agency Directors:
USE OF CALIFORNIA MODIFIED ASSESSMENT FOR
RECLASSIFICATION OF ENGLISH LEARNERS
The purpose of this letter is to provide clarification to local educational agencies (LEAs) and schools regarding the use of basic skills tests in making reclassification decisions for English learners (ELs) with disabilities. Current guidelines specify the California Standards Test for English-language arts (CST–ELA) as an example of an empirically-established test of basic skills; however, the California Modified Assessment for ELA (CMA–ELA) is also recognized by the California Department of Education (CDE) as meeting the same criteria set forth in California Education Code (EC) Section 313(d).
Based on EC Section 313, guidelines for the reclassification of ELs were approved by the State Board of Education (September 2002, and updated September 2006). In accordance with EC Section 313(d), the reclassification procedures shall use multiple criteria in determining whether to reclassify a pupil as proficient in English, including, but not limited to, all of the following:
Assessment of language proficiency using an objective assessment instrument, including, but not limited to the English language development test (i.e., the California English Language Development Test [CELDT]) pursuant to EC Section 60810

Teacher evaluation, including, but not limited to, a review of the pupil's curriculum mastery

Parental opinion and consultation

Comparison of the pupil's performance in basic skills based upon the performance of English proficient pupils of the same age (e.g., the CST–ELA or the CMA–ELA)
Like the CST, each pupil who takes the CMA is placed into one of five performance levels (Far Below Basic, Below Basic, Basic, Proficient, or Advanced). Pupils who score from the bottom to the midpoint of the scale score range that defines the "Basic" performance level or higher on the CMA–ELA may be sufficiently prepared to participate effectively in the curriculum. However, LEAs must use multiple criteria as defined in EC 313 to determine reclassification.
If you have any questions regarding this subject, please contact Lily Roberts, Administrator, CELDT and Title III Accountability Office by phone at 916-319-0784 or by e-mail at celdt@cde.ca.gov.
Sincerely,
\s\
Deborah V.H. Sigman, Deputy Superintendent
Curriculum, Learning, and Accountability Branch
DS:aaz
Last Reviewed: Wednesday, August 23, 2017
Recently Posted in Testing