CAASPP Update, Issue 141
California Assessment of Student Performance and Progress (CAASPP) e-mail update, February 17, 2016.
---
Focusing on the California Assessment of Student Performance and Progress (CAASPP) System, including the Smarter Balanced assessments—a major component of CAASPP—and the California Alternate Assessments and science assessments.
February System Downtime Coming Soon
During scheduled system downtime this month—9 p.m. Wednesday, February 24, through 9 p.m. Sunday, February 28—the Interim Assessment Viewing System and the Smarter Balanced practice tests and training tests will be unavailable. The interim and summative assessment Test Delivery System will not be affected.
Mark your Calendar Now for System Downtime in April
System downtown is scheduled to begin at 4 p.m. on Thursday, April 7, and end at 9 p.m. on Sunday, April 10, to load the California Alternate Assessments into the Test Delivery System. Issue 139 contains details on the particular systems that will be impacted.
Report Test Security Incidents in STAIRS
The CAASPP online Security and Test Administration Incident Reporting System (STAIRS) is up and running! STAIRS is the starting point for local educational agencies and schools to report all incidents that interfere with the administration of an assessment. For more information on the submission process, please visit the CAASPP STAIRS Process web page

.
Meet an SNE Member!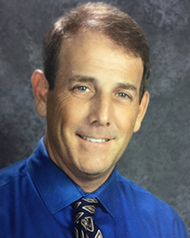 February's featured State Network of Educators (SNE) member is Steve Krolikowski, a 23-year veteran of education in the field of mathematics. Steve currently teaches grade six mathematics and chairs the Mathematics Department at Griffiths Middle School in the Downey Unified School District. In his spare time, Steve serves as the Grade Six Professional Learning Community Lead and Middle School Sports Director. He joined the Smarter Balanced Digital Library SNE in May 2015 to contribute to the development and sharing of quality, formative assessment-based, Common Core State Standards-aligned resources for inclusion in the Smarter Balanced Digital Library

(Digital Library account required).
Since joining the SNE, Steve has participated in two SNE collaboration workshops, hosted by Smarter Balanced, in which he worked on the submission and review of resources for the Digital Library. He has vetted more than 20 resources submitted by other SNE members and contributed several of his own, including Elevate Your Number Sense

(Digital Library account required), a grade six task that helps students find the absolute value of rational numbers. In this task, the students are asked to draw, on a vertical number line, various objects and animals, the positions of which are then used to find distance and answer various questions aligned with grade six standards.
Steve believes that one of the best ways to bring formative assessment practices into the classroom is by selecting strategies that can be used daily. He actively uses the Digital Library by selecting problem-solving activities that engage students in the formative assessment process. One of Steve's favorite strategies for eliciting student evidence is through an activity he calls "Stand up–Pair up–Share out," which provides him with immediate feedback on his students' comprehension of the concept taught that day.
To learn more about Steve and other members of the State Network of Educators, please visit the new CDE Meet an SNE Member web page!
Designing the NGSS-aligned Physical Science Assessment for Middle School
California and its partner, Achieve, Inc., a collaborator in developing the NGSS, are part of the Next Generation Science Assessment (NGSA) Collaborative—a project to develop, test, and analyze sets of technology-supported diagnostic classroom assessments for middle school physical science.
The NGSA Collaborative project addresses core ideas in physical science by integrating middle school chemistry content of structure and properties of matter, chemical reactions, and energy with two science practices—constructing explanations and developing and using models. More information about the project, sample tasks, and classroom resources can be found on the NGSA website

.
Please share this email with any educators in your local educational agency who would be interested in or benefit from this information. To join the email list, send a blank message to subscribe-caaspp@mlist.cde.ca.gov. Are you a new subscriber? Visit the CDE CAASPP Update web page to find previous issues.
Questions: California Assessment of Student Performance and Progress Office |
caaspp@cde.ca.gov
| 916-445-4821
Last Reviewed: Friday, April 5, 2019
Recently Posted in Testing