CAASPP Update, Issue 158
California Assessment of Student Performance and Progress (CAASPP) e-mail update, June 15, 2016.
---
Focusing on the CAASPP System, including the Smarter Balanced assessments—a major component of CAASPP—and the California Alternate Assessments and science assessments.
Revised CAASPP Regulations Now Available
On May 18, 2016, the Office of Administrative Law approved California Code of Regulations for CAASPP (DOC). The CAASPP regulations are located on the California Department of Education (CDE) CAASPP System web page under the "CAASPP Info" tab. Highlights of the revisions made to the CAASPP regulations include the following:
Section 851.5(c) clarifies eligibility for the Standards-based Tests in Spanish as a student in one of grades three through eight and grade eleven (1) whose primary language is Spanish and who is receiving instruction in Spanish; or (2) who is enrolled in a dual language immersion program that includes Spanish; or (3) who is a recently arrived English learner and whose primary language is Spanish.
NEW Section 851.5(h) clarifies that only eligible students as defined in Section 851.5 who are tested receive student score reports.


Section 853.5(d)(10) clarifies that the non-embedded designated support glossary is for paper-pencil tests for mathematics only.


Section 855(a)(1) now also applies to grade eleven, making the testing window for students in grade eleven begin when 66 percent of the school's annual instructional days have been completed.
Designation of 2016–17 LEA CAASPP Coordinator Required by July 1
All local educational agency (LEA) superintendents and charter school administrators are required to designate an LEA CAASPP coordinator for the 2016–17 CAASPP administration by July 1, 2016. This is done by submitting the Superintendent Designation Form for the LEA CAASPP Coordinator, 2016–17 School Year

. The LEA CAASPP coordinator, who is responsible for handling administrative and security responsibilities for all components of CAASPP through July 31, 2017, must sign and submit a 2016–17 test security agreement

. After Educational Testing Service (ETS) has received both of these forms, with signatures, the coordinator will have access to the Test Operations Management System (TOMS).
The LEA CAASPP coordinator e-mail address requested on the designation form will be used for all communications related to CAASPP by both ETS and the CDE. Therefore, if the coordinator's e-mail address changes, please immediately notify ETS and submit a new designation form for any change in coordinator contact information. The ETS California Technical Assistance Center can be contacted by e-mail at caltac@ets.org or by phone at 800-955-2954.
Viewing Student Data for "Unenrolled" Students
Some schools have reported experiencing difficulty in accessing test results for students who have transferred or will be transferring from elementary school to middle school or from middle school to high school. In many cases, the schools have "unenrolled" the students, in preparation for their transfer, before the end of the school year and lose access to their test data until the students have enrolled in the new schools.
In order to access data for students who have been unenrolled, please follow these steps:
Access the Online Reporting System by logging on to TOMS.


Select the "Score Report" button.


Select the test (e.g., Smarter Balanced) and school year, and then choose the third option: "Scores for students who were mine when they tested during the selected administration." (Selecting this option will allow you to include and view the transferred student's results.)


Go to the "Test Management Center" tab at the top of the page and choose "Retrieve Student Results."
Teacher Guides to the Smarter Balanced Assessments
All three guides—for grades three through five, for grades six through eight, and for grade eleven—of the CAASPP Teacher Guide to the Smarter Balanced Assessments: English Language Arts/Literacy (ELA) are now posted on the CDE CAASPP Teacher Guide: Smarter Balanced Assessments web page.
The mathematics guides will become available over the coming weeks.
Meet an SNE Member!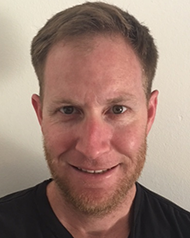 June's featured State Network of Educators (SNE) member is Matthew Cowan, a teacher on special assignment as an ELA instructional coach and coordinator in the Redlands Unified School District. A member of the SNE since May 2015, Matthew relishes the process of creating useful resources for teachers and students. He believes it is important to create curricular experiences for students that no only align with the standards but also relate to real life.
One of Matthew's favorite formative assessment strategies is the digital Socratic seminar because it allows students to collaborate, cull textual evidence, and share their arguments in a way that is conducive to authentic learning. In the latest CDE Formative Assessment in Action video, "Digital Hybrid Socratic Seminar" (featured in the June 1 issue of the CAASPP Update), Matthew demonstrates this strategy as his grade nine ELA students debate the effects of texting and playing video games on student learning.
To learn more about Matthew and other members of the Digital Library State Network of Educators, please visit the CDE Meet an SNE Member web page!
Please share this email with any educators in your local educational agency who would be interested in or benefit from this information. To join the email list, send a blank message to subscribe-caaspp@mlist.cde.ca.gov. Are you a new subscriber? Visit the CDE CAASPP Update web page to find previous issues.
Questions: California Assessmento of Student Performance and Progress |
caaspp@cde.ca.gov
| 916-445-8765
Last Reviewed: Wednesday, October 10, 2018
Recently Posted in Testing