CAASPP Update, Issue 185
California Assessment of Student Performance and Progress (CAASPP) e-mail update, December 21, 2016.
---
Focusing on the CAASPP System, including the Smarter Balanced assessments—a major component of CAASPP—and the California Alternate Assessments and science assessments.
Just Around the Corner: CAASPP System Downtime
CAASPP System downtime is scheduled January 5 through January 8, 2017. During that time, the following systems will be unavailable:
Test Operations Management System
Online Reporting System
Test Administrator Interface
Completion Status and Roster Management System
Interim Assessment Viewing System
Interim Assessment Hand Scoring System
Please notify all CAASPP test site coordinators of these dates now so they can plan their assessment-related work with this downtime in mind.
A Gift for the Holidays: Create Your Own Digital Library Account!
Self-registration is now available for the Smarter Balanced Digital Library! This new feature, which is available through the existing Digital Library login page

, gives local educational agency (LEA) staff the ability to create a new account without relying on the district or site CAASPP coordinator.
Registering is easy and open to all LEA staff members. To establish an account, staff members select the "Register for the Digital Library" button, enter their name and LEA e-mail address, and confirm their registration by using the link in the confirmation e-mail. This new interface works for any LEA-specific e-mail domain name. Staff members with a non-LEA-specific e-mail domain (e.g., @gmail.com, @yahoo.com) will need to contact their LEA CAASPP coordinator to establish a Digital Library account.
As a reminder, any Digital Library users can reset their Digital Library account password by selecting the "Forgot Your Password?" link on the Digital Library login page

. The password reset feature, along with the new self-registration interface, means that it has never been easier to access the vast resources available in the Digital Library to support formative teaching and learning!
Watch and Learn: Digital Library and Interim Assessment Clinic Video
The new Digital Library and Interim Assessment Clinic video [Note: the preceding Web address is no longer valid.] is now available to accompany the slides that were used in last fall's in-person clinic and are accessible through a link on the CDE Smarter Balanced Digital Library web page. The video includes professional learning and instructional resources for training and development, information on promoting the use of the Smarter Balanced Digital Library, and an overview of the interim assessments and considerations for administration. Use these resources to meet instructional goals well into the new year and beyond!
Meet an SNE Member!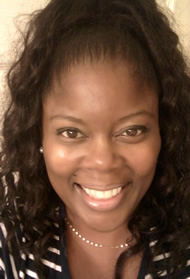 December's featured State Network of Educators (SNE) member is Jeanine Taylor, a California educator for more than 20 years and a member of the SNE since 2015. Jeanine is a grade four teacher at Longfellow Elementary School in the Compton Unified School District. At a young age, Jeanine discovered her affinity for teaching and creating and decided then to become a teacher. She enjoys offering students a variety of learning experiences to help them build on familiar concepts to gain new knowledge that allows them to open doors to topics they have not yet explored.
A favorite resource Jeanine developed and contributed to the Digital Library is Clarify New Vocabulary

(Digital Library account required), an activity for grade four that incorporates English language arts with social studies. The students consult print and digital reference materials to conduct research and clarify key words and phrases.
To learn more about Jeanine and other members of the Digital Library SNE, please visit the CDE Meet an SNE Member web page.
CAA Standard Setting Report—Download Your Copy Now!
Just in time for your holiday reading list—the Standard-Setting Technical Report for the California Alternate Assessments (CAAs): English Language Arts/Literacy and Mathematics, Grades Three Through Eight and Grade Eleven (PDF) is now available! This report provides the information you want about the process used to set score thresholds for the CAA for English language Arts/Literacy and CAA for Mathematics:
The purpose of the standard-setting workshops and a discussion of the work conducted before the workshops take place


The standard-setting method used—a discussion of the Bookmark method, materials used in this approach, the process before and during the workshop, and the panels involved


The results, which include summary data from the bookmark placements and from evaluations by the panelists
California Spanish Assessment
Are you interested in participating in the development of the California Spanish Assessment (CSA)? Educational Testing Service (ETS) is recruiting applicants to participate in item writer training next month for the CSA. The training will be held at National University in Costa Mesa January 25 and 26. To attend, please register by completing the online registration form

by Wednesday, January 11. Participants will be required to attend both days of the training.
Participating California educators will be lead through the Common Core State Standards en Español and learn in detail how to write items that are appropriate and free of bias and sensitivity issues. Educators will also learn about various technology-enabled items that will be used for the new computer-based Spanish assessment.
If you have any questions about this training opportunity, please contact Marques Barron, ETS Program Administrator, by e-mail at mbarron@ets.org or by phone at 916-403-2432. We look forward to seeing you there!
Please share this email with any educators in your local educational agency who would be interested in or benefit from this information. To join the email list, send a blank message to subscribe-caaspp@mlist.cde.ca.gov. Are you a new subscriber? Visit the CDE CAASPP Update web page to find previous issues.
Questions: California Assessment of Student Performance and Progress |
caaspp@cde.ca.gov
| 916-448765
Last Reviewed: Friday, April 5, 2019