California Ed Code Sections and Regulations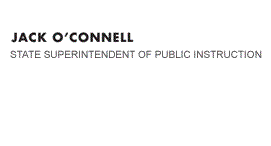 California Department of Education
Official Letter
California Department of Education
Official Letter
December 19, 2008
Dear Publishers of Instructional Materials:
INFORMATION ON RELEVANT CALIFORNIA EDUCATION CODE SECTIONS AND
CALIFORNIA CODE OF REGULATIONS, TITLE 5
The purpose of this letter is to share with publishers and manufacturers of instructional materials pertinent California laws and California Code of Regulations, Title 5 (5 CCR) for marketing in the state. We trust that you will find this information helpful in your work with local education agencies (LEAs) and we appreciate your cooperation in adhering to California laws. This letter contains information on the following: publishers gratis list policy; definition of technology-based instructional materials; restrictions on publishers marketing instructional materials in California; prohibitions for school officials; and suggested purchase agreement language for LEAs to ensure order fulfillment in a timely manner. We continue to be grateful to the publishers who have submitted and developed programs to meet the rigorous California criteria and content standards for adoption.
Free Instructional Materials
Publishers of instructional materials adopted by the State Board of Education (SBE) are required to inform the California Department of Education (CDE) of any instructional materials they will be offering to schools on a no-charge basis.
Section 9510(l) of the 5 CCR define "free instructional materials" as instructional materials provided at no cost by a publisher to a county office of education (COE), district board, elementary school, middle school, or high school.
Section 9527 maintains the requirement of the most favored nation clause–this provision requires publishers to provide any instructional materials free of charge in this state to the same extent as that received by any state or school district in the United States. In addition, publishers shall post on their Web site a list of any free instructional materials that they have agreed to provide to any LEA within ten days of entering into such an agreement. Publishers shall maintain this list on their Web sites through the next biennial price adjustment, which is every two years after an adoption year. Also, publishers are required to provide the CDE with the uniform resource locator (URL) to their list of free instructional materials, and the CDE will post on its Web site a direct hyperlink to the URL provided by the publisher.
Moreover, all materials offered to districts at no cost are to be submitted for a social content review and approved at the state level. If a publisher offers "free materials" that have not been reviewed for social content at the state level, they may contact Nancy Plasencia, Associate Governmental Program Analyst, Instructional Resources Unit, at 916-319-0450 or by e-mail at nplasencia@cde.ca.gov for further information on the social content review process.
Definition of Technology-Based Materials
According to statute, free instructional materials do not include digital video disc players, televisions, liquid crystal display projectors, laptop computers, and scanners. EC Section 60010(m) defines technology-based materials as follows:
"Technology-based materials" means those basic or supplemental instructional materials that are designed for use by pupils and teachers as learning resources and that require the availability of electronic equipment in order to be used as a learning resource. Technology-based materials include, but are not limited to, software programs, video disks, compact disks, optical disks, video and audio tapes, lesson plans, and data bases. Technology-based materials do not include the equipment required to make use of those materials.
This definition of technology-based materials has been in place since 1995, and often LEAs and publishers are confused as to what is allowable as free instructional materials.
Restriction on Publishers
Providing free trips or meals, paying for conferences or golf fees, or offering any other thing of value to school personnel is prohibited in California. This would also include the above referenced equipment. This prohibition applies to all publishers of instructional materials, not just to publishers with materials on a state adoption list. Moreover, this prohibition is broadly conceived, applying to any inducement to directly or indirectly influence the adoption or purchase of instructional materials.
Under EC Section 60071 publishers have the following restrictions:
No publisher or manufacturer of instructional materials, nor any of his representatives, shall offer or give an emolument, money, or other valuable thing, or any inducement to directly or indirectly introduce, recommend, vote for, or otherwise influence the adoption or purchase of any instructional material.
Prohibition on School Officials
EC Section 60072 states the following: "No school official shall accept any emolument, money or other valuable thing, or any inducement to directly or indirectly introduce, recommend, vote for, or otherwise influence the adoption or purchase of any instructional material." EC Section 60010(j) defines "school official" as including "any member of any governing board, any city, county, city and county, or district superintendent of schools, and any principal, teacher, or other employee under his or her charge."
Since violations of either EC Section 60071 by a publisher or EC Section 60072 by a school official are codified in California as misdemeanors, we would appreciate you sharing this information with your staff in order to ensure compliance with state law.
Purchase Agreement Information
In negotiating purchase agreements with publishers to ensure timely delivery of materials, districts may levy fines on publishers for late deliveries.
Past practice has been for districts to assess the publisher an amount of up to $500 for each working day that the order is delayed beyond 60 calendar days up to a maximum amount of $20,000. If late delivery results from circumstances beyond the control of the publisher or manufacturer, the publisher or manufacturer has not been held liable.
Again, we trust that you will find the information beneficial in your endeavors with California
LEAs to improve student achievement. If you have any questions regarding instructional materials, please contact Tom Adams, Director, Curriculum Frameworks and Instructional Resources Division, at 916-319-0881 or by e-mail at tadams@cde.ca.gov. You may also contact Veronica Aguila, Education Administrator, Instructional Resources Unit, at 916-323-4867 or by e-mail vaguila@cde.ca.gov. [Note: the preceding phone numbers and e-mail addresses are no longer valid. Please contact the Curriculum Frameworks and Instructional Resources Division at 916-319-0881.]
We thank you for your support in this partnership.
Sincerely,
GAVIN PAYNE
Chief Deputy Superintendent of Public Instruction
GA:ta
Last Reviewed: Friday, March 03, 2023
Recently Posted in Curriculum and Instruction Resources
No items posted in the last 60 days.