Nutrition
---
The California Department of Education (CDE) Nutrition Services Division (NSD) is committed to a well-nourished and educated California. We support and protect access to nutritious meals for children and adults in California to grow, learn, and thrive.
Our Child Nutrition Programs (CNP) offer meals and snacks in schools, child care and adult care centers, day care homes, parks, and other community agencies.
Together we serve nearly 6 million nutritious meals at nearly 34,000 locations daily.
---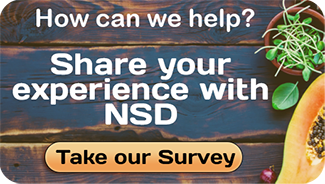 Program News | Meal Programs | Education, Training, and Professional Development | Program Resources | Program Operator Feedback | Latest Tweets
Program News
Meal Programs
School Nutrition Programs (SNP)
Information about meal, snack, and milk programs offered at public and private nonprofit schools and residential child care institutions. The SNPs include the National School Lunch Program, School Breakfast Program, Fresh Fruit and Vegetable Program, Special Milk Program, Seamless Summer Option and State Meal Program.


Child and Adult Care Food Program
This web page includes background information, steps on how to apply, the Administrative Manual, meal pattern requirements, claiming information, policy guidance, compliance, trainings, resources, and contacts for program operators.


Food Distribution Program (FDP)
Information about the U.S. Department of Agriculture (USDA) Foods, Department of Defense Fresh Program, distribution centers, and processing of USDA Foods.


Summer Food Service Programs
Federal meal programs for children from low-income areas during vacation and off-track periods.


After School
Information and resources about healthy snacks, nutrition education, and physical activity for afterschool programs.


Meal Programs–CalEdFacts page
Summary of meal programs offered in California.
Education, Training, and Professional Development
Program Resources
Program Operator Feedback
NSD Customer Service Survey
How can we help? Share your experience with us. Your experience with NSD and input is important to us. The NSD will use this feedback to improve our support and communication of information to CNP operators. This survey can be taken at any time.
CDE Nutrition on Twitter
For the latest CDE nutrition news and information, follow @CDENutrition

on Twitter.
Questions: Nutrition Services Division | 800-952-5609
Last Reviewed: Friday, September 4, 2020