Implementation Support for the ELA/ELD Framework
A Collection of Resources That Support the Implementation of the English Language Arts/English Language Development Framework.
---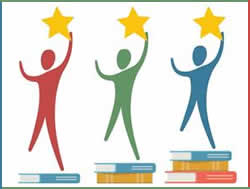 The California Department of Education (CDE) continues to develop and collect resources critical to implementing the California content standards and increasing student achievement. This collection of select resources connects the content in the ELA/ELD Framework with resources from the CDE, in addition to other reputable sources that address the five key instructional themes and crucial support for English learners. The intent of this collection is to provide educators timely resources they can use to expand the scope of the guidance in the ELA/ELD Framework and to inform professional development and instructional decisions at all schools and districts. All resources included here have been reviewed by CDE staff to ensure, to the extent possible, that they
were created or recommended by a reputable source;
have been used in classrooms, schools, or districts;
demonstrate evidence of positive impact or evidence of usefulness for an intended audience (e.g., students, teachers, administrators, schools, districts);
are timely, given current educational priorities and policy developments;
reference research; and
are aligned to current standards.

Resources by Grade
Implementation Support Videos
Resources by Category
Questions: Curriculum Frameworks and Instructional Resources Division |
cfird@cde.ca.gov
| 916-319-0881
Last Reviewed: Tuesday, April 26, 2022
Trending in English Language Arts
Implementation Support for the ELA/ELD Framework

(this page)
Recently Posted in English Language Arts
No items posted in the last 60 days.