Tom Torlakson
State Superintendent of Public Instruction.
---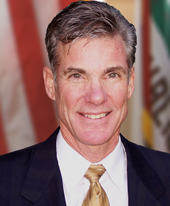 Tom Torlakson was re-elected to a second four-year term as California's 27th State Superintendent of Public Instruction on November 4, 2014. As chief of California's public school system and leader of the California Department of Education, Superintendent Torlakson applies his experience as a science teacher, high school coach, and state policymaker to fight for our students and improve our state's public education system.
During Torlakson's first term, he set out on a mission to provide a world-class education for all students from early childhood to adulthood. He directed the change to rigorous new California state standards in English, mathematics, and science. He advocated increasing investments in education, helping to pass Proposition 30 in 2012 and leading the effort to give local school districts more flexibility to make spending decisions. He promoted the idea of meeting the needs of the whole child by expanding pre-kindergarten and after-school and summer programs, increasing access to health care and mental health services, and promoting nutritious food and regular exercise. Under his leadership, the state's high school graduation rate rose to an all-time high of 80 percent, with a graduation rate hitting nearly 95 percent for those students in career-preparation programs.
Torlakson's journey has led him from the classrooms of Contra Costa County's Mount Diablo Unified School District (where he remains a teacher-on-leave), to the Antioch City Council, Contra Costa County Board of Supervisors, and the California State Senate and State Assembly.
During his tenure in the California State Legislature, Torlakson acted to protect education funding, improve student nutrition and physical education, and ensure school safety. He also championed legislation to increase funding for textbooks, computers, and other instructional materials, and promoted efforts to close the digital divide, eliminate the achievement gap, and reduce the dropout rate.
In 1998 Torlakson authored legislation leading to the development of the largest system of after-school programs in the nation. In 2006, he authored the bill that led to a 300 percent expansion in these programs—so they now reach 4,000 schools around the state. Torlakson authored the Quality Education Improvement Act (SB 1133) in 2006, which dedicates nearly $3 billion to our lowest-performing schools. He also played a key role negotiating and authoring the $9 billion Proposition 1A bond measure in 1998—which has led to public votes supporting over $36 billion to build new schools and improve existing school buildings.
As the chair and founder of the California Task Force on Youth and Workplace Wellness, Torlakson has been a leader on banning junk food from our schools, providing healthier school meals, promoting student health and fitness, and combating diabetes and obesity among our children.
Born in San Francisco, Torlakson served as a fireman in the United States Merchant Marine, earning the Vietnam Service Medal. He earned a Bachelor of Arts in History, a Life Secondary Teaching Credential, and a Master of Arts in Education from the University of California, Berkeley. Tom lives in Pittsburg with his wife, Mae Cendaña Torlakson, a member of the Ambrose Recreation and Park District Board of Directors.
Questions: Executive Office | 916-319-0800
Last Reviewed: Wednesday, October 11, 2017
Tom Torlakson

(this page)
Recently Posted in Biographies
No items posted in the last 60 days.