Tony Thurmond
State Superintendent of Public Instruction.
---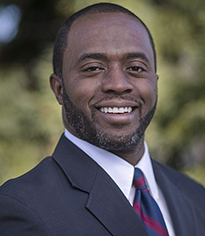 Biografía de Tony Thurmond en Español
Tony Thurmond was sworn in as the twenty-eighth California State Superintendent of Public Instruction on January 7, 2019.
Superintendent Thurmond is an educator, social worker, and public school parent who has served Californians for more than 15 years in elected office. Previously, he served on the Richmond City Council, the West Contra Costa Unified School Board, and in the California State Assembly representing District 15.
Like many of California's public school students, Superintendent Thurmond came from humble beginnings. His mother was an immigrant from Panama who came to San Jose, California, to be a teacher. His father was a soldier who did not return to his family after the Vietnam War. After his mother died when he was six, Thurmond and his brother were raised by a cousin whom they had never met.
Superintendent Thurmond's family relied on public assistance programs and great public schools to get out of poverty. Public school education allowed him to attend Temple University, where he became student body president. He went on to earn dual master's degrees in law and social policy and social work (MSW) from Bryn Mawr College and began a career dedicated to service.
Much of Superintendent Thurmond's social service work has focused on improving the services provided to foster youth and directing programs that provide job training to at-risk youth. He also led programs that provide help for individuals with developmental disabilities. He has 12 years of direct experience in education, teaching life skills classes, after school programs, and career training.
Over the course of Thurmond's tenure since being sworn in as California's State Superintendent, he has championed and created many historic initiatives on behalf of California's students, and his efforts to transform California schools include seven key areas of support.
Return to Safe In-Person Instruction: Superintendent Thurmond secured $6.6 billion in funding to safely reopen California schools for in-person instruction and expanded learning opportunities during the COVID-19 pandemic. He supplied face coverings and personal protective equipment for all students and school staff across the state, and also sent up to three million rapid COVID-19 antigen tests at no cost to those in California's most disadvantaged school districts.
He worked closely with partners at the California Department of Public Health and the Governor's office while also launching the Safe Schools for All Hub

to consolidate key resources and information to support safe, in-person learning and mitigate the spread of COVID-19.
Universal School Meals: Superintendent Thurmond helped distribute 920 million school meals to students during the pandemic and secured hundreds of millions of dollars to implement the nation's first statewide Universal Meals Program in the 2022–23 school year. California's Universal Meals Program prioritizes healthy, fresh food grown in right here in California. It provides opportunities for all students to reach their full academic potential by fueling their brains and nurturing their social–emotional needs for optimal learning.
Community Schools: Superintendent Thurmond was able to secure a historic $4.13 billion investment in community school strategies to ensure an equity-driven approach to public education. The California Community Schools Partnership Program includes much-needed funding that will help hundreds of under-resourced schools improve student outcomes by creating the right conditions for learning. California's program increases equitable learning for students by supporting the needs of the whole child, including mental and behavioral health, trauma-informed care, social–emotional learning, restorative justice, and other key areas.
Mental Health Support: Superintendent Thurmond established the Family Engagement Unit at the California Department of Education, which helps school districts empower families around a variety of needs including digital literacy, social–emotional learning, home/school communication, and supporting learning at home. Superintendent Thurmond wrote and sponsored Senate Bill (SB) 1229, which led to the inclusion of $184 million in the 2022–23 State Budget for teacher and school counselor residency programs. The bill also expanded an existing $350 million in residency programs to school counselors. Superintendent Thurmond addressed the student mental health crisis by leading efforts to expand resources and build the pipeline of student-serving clinicians through the creation of $20,000 grants for 10,000 school counselors through the Golden State Grant Program.
Supporting Our Teachers: Superintendent Thurmond secured an unprecedented $1.5 billion investment in professional learning for educators and assisted with diversifying the teacher workforce through the Educator Effectiveness Block Grant. Superintendent Thurmond also appointed a workgroup to address education sector workforce shortages and diversifying the profession. These workgroups are addressing compensation, training, and recruitment strategies to help offset education staffing shortages in a state that serves nearly six million students.
Universal Prekindergarten: Superintendent Thurmond championed the $2.7 billion Universal Transitional Kindergarten program to ensure that California leads the nation in expanding quality preschool. Universal prekindergarten will be gradually phased in over five years until it includes all the state's four-year-olds by the 2025–26 school year.
Literacy and Learning Loss: Superintendent Thurmond helped organize a taskforce on literacy and advocated new funding for high-dosage, intensive literacy interventions and additional funding for early literacy. These efforts resulted in $250 million to fund Literacy Coaches; $15 million to help 6,000 educators receive reading and literacy instruction certifications; $10 million to fund the First 5 of California Books for Children Program; $5 billion in ongoing funds to support students beyond normal school hours to develop their academic, social, emotional, and physical needs and interests (Expanded Learning Opportunities Program); and $7.94 billion to address learning recovery via the Learning Recovery Emergency Fund.
Superintendent Thurmond launched the Black Student Achievement Taskforce to call out the effects that systemic and institutional racism have had on Black students in California. He sponsored legislation to increase funding to lowest performing students, banned suspensions and expulsions in preschools, and secured $90 million for suspensions and chronic absenteeism programming.
Superintendent Thurmond also championed the California Taskforce on Closing the Digital Divide, using it to expand access to low-cost internet to thousands of school children and families, coordinate the distribution of over one million devices to low-income households, and establish an Innovation Challenge by raising $1 million to support the initiative.
Before becoming State Superintendent of Public Instruction, Thurmond served on the Richmond City Council from 2005–08. While on the council, he served as liaison to Richmond's Youth Commission and Workforce Investment Board and the Council Liaison to the West Contra Costa Unified School District. He was chair of Richmond's 2005 Summer Youth Program, which employed 200 local teens.
Between 2008 and 2012, Superintendent Thurmond served on the West Contra Costa Unified School Board, where he coordinated a plan to keep schools open during the 2008 recession. He helped restore fiscal solvency and local control to the school board while supporting campaigns to put millions of dollars toward preserving counseling, after school, music, and athletic programs. Under his leadership, the school board rebuilt dozens of schools to provide state-of-the-art student learning facilities.
Thurmond also funded programs to help students learn about and apply to top universities, led efforts to expand drug and alcohol treatment services for youth, brought nutrition and wellness programs to schools, and spearheaded a campaign that reduced school suspensions by 27 percent.
In the State Assembly, Thurmond served on the Assembly Education, Health, and Human Services committees. He chaired the Assembly Labor Committee and the Assembly Select Committee on Science, Technology, Engineering, and Math (STEM) Education.
Education is at the core of Superintendent Thurmond's legislative record. He authored legislation that successfully expanded the free lunch program, bilingual education, and the Chafee Grant college scholarship program for foster youth. Additionally, Thurmond's legislation guaranteed preferential voting rights for student school board members, improved access to families for early education and child care, and shifted millions of dollars directly from prisons to schools. He also introduced legislation to expand STEM education; improve school conditions for lesbian, gay, bisexual, transgender, queer (LGBTQ+) youth; and tax private prisons to fund early education and after school programs.
In recognition of his social service leadership, Superintendent Thurmond has been a Fellow in the Annie E. Casey Foundation's Children and Family Fellowship program.
Superintendent Thurmond lives in Richmond, where he raised his two daughters who both attended local public schools. They are his inspiration and a constant reminder about the promise of our neighborhood schools and the strong future that every child deserves.
Additional Information
Questions: Executive Office | 916-319-0800
Last Reviewed: Wednesday, May 31, 2023
Tony Thurmond

(this page)
Recently Posted in Biographies
No items posted in the last 60 days.