Budget Act for 2015-16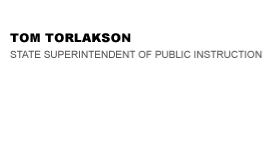 California Department of Education
Official Letter
California Department of Education
Official Letter
April 30, 2015
Dear County and District Superintendents, Direct-Funded Charter School Administrators, and County Chief Business Officers:
GOVERNOR'S BUDGET FOR 2015–16
On January 9, 2015, Governor Edmund G. Brown Jr. released his proposed budget for the 2015–16 fiscal year. This letter, prepared by the California Department of Education (CDE), provides information on the Governor's proposals that affect kindergarten through grade twelve (K–12) education and early education programs.
Copies of this document, as well as other budget-related documents, are available through the CDE Education Budget Web page at http://www.cde.ca.gov/fg/fr/eb/. Official state budget documents, including proposed trailer bill language, are available through the Department of Finance Web site at http://www.dof.ca.gov. The budget bills are Assembly Bill (AB) 103 and Senate Bill (SB) 69.
Overview
State revenues continue to improve, with projected revenue growth of more than $11 billion over the three-year period reflected in the Governor's Budget for 2015–16. These revenue increases are largely attributed to gains in the stock market and the continued overall improvement in the economy. Revenues for 2015–16 are projected to be $113 billion, an increase of more than $5 billion over the projected increased revenues of $108 billion for 2014–15. The revenue growth results in deposits to the Budget Stabilization Account of $1.6 billion in 2014–15 and $1.2 billion in 2015–16, for a balance of $2.8 billion. These funds are in addition to Special Fund reserves for Economic Uncertainties of $452 million in 2014–15 and $534 million in 2015–16.
The Budget Stabilization Account (i.e., Rainy Day Fund) was established pursuant to Proposition 2, which was proposed by the Governor and approved by voters in November 2014. The provisions of Proposition 2 also created a budget stabilization fund known as the "Proposition 98 Reserve" or Public School System Stabilization Account (PSSSA). However, the conditions requiring a deposit into the PSSSA have not been met. The Governor's Budget package indicates his intent to engage in a dialogue regarding related statutory caps on school district reserves.
While the Governor's Budget reflects overall growth in state revenues and expenditures, it also recognizes extensive long-term costs, debts, and liabilities. In addition to these costs, the Governor's Budget notes the upcoming expiration of the additional revenues authorized by the passage of Proposition 30. The quarter-cent sales tax is scheduled to sunset at the end of 2016 and the income tax provisions are scheduled to sunset at the end of 2018. The Governor also cites additional cost pressures on state resources, including state program costs pending changes in federal immigration policy, emergency fire, and other costs resulting from the impacts of climate change, and rising health care costs. Given the many factors with the potential to impact state revenues and expenditures, the Governor encourages caution in expanding long-term budget commitments.
Prior Year Obligations (Deferrals, Mandates, and Common Core)
The Governor's Budget proposes full repayment in the 2014–15 fiscal year for the remaining $897 million in K–12 deferral payments.
In addition, the Governor's Budget proposes more than $1 billion to pay down the K–12 mandate backlog, offsetting any applicable mandate reimbursement claims. These funds would be provided as discretionary one-time Proposition 98 funding for school districts, charter schools, and county offices of education (COEs), with the intent that priority be given to implement the following activities: English Language Arts Standards, Mathematics Standards, the newly adopted English Language Development Standards, California's Next Generation Science Standards, and the new responsibilities required under the accountability structure of the Local Control Funding Formula (LCFF).
Of the $1 billion, $20 million would be provided to COEs for additional workload, such as the Local Control and Accountability Plan (LCAP) activities, required under LCFF. The funding would be distributed on the basis of countywide average daily attendance (ADA) and the number of school districts within the county office's jurisdiction. The balance of the funding would be distributed to school districts and charter schools on the basis of ADA.
Proposition 98
The Governor's Budget proposes Proposition 98 funding for K–12 education and California Community Colleges of $65.7 billion in 2015–16, a $4.9 billion increase over the 2014–15 Budget Act level. This funding reflects state resources of $47 billion and local property tax revenues of $18.7 billion.
In addition to the amounts proposed for 2015–16, the Governor's Budget also reflects increases in K–14 Proposition 98 funding for both 2013–14 ($371 million) and 2014–15 ($2.3 billion).
On a per-pupil basis, Proposition 98 spending would reach $9,667 in 2015–16, up from $9,361 in 2014–15. When all funding sources are considered, per-pupil spending would total $13,462 in 2015–16, up from $13,223 in 2014–15.
Cost-of-Living Adjustment and Growth
The Governor's Budget includes funding for a cost-of-living adjustment (COLA) and growth for some programs. Specifically, COLA is funded at 1.58 percent for LCFF and specified categorical programs that continue to be funded outside of LCFF, including Special Education, Child Nutrition, Foster Youth Program, Preschool, American Indian Education Centers, and the American Indian Early Childhood Education Program. In addition, the Governor's Budget includes COLA funding of 1.58 percent for capped child care programs (Proposition 98: $9.2 million; non-Proposition 98 General Fund: $12.3 million).
School districts and COEs are projected to experience offsetting changes in Average Daily Attendance (ADA), resulting in an increase Proposition 98 funding in 2014–15 ($197.6 million) and decreased funding in 2015–16 ($6.9 million). Charter school ADA is expected to grow, resulting in growth funding of $59.5 million. In addition, $15.3 million is provided for growth in Special Education ADA.
Local Control Funding Formula
The Governor's Budget includes an additional $4 billion in Proposition 98 funding for the third year of LCFF implementation for school districts and charter schools, an increase of 8.7 percent. This accounts for more than $10 billion in additional funding attributed to LCFF in the first three years of implementation. An additional $109,000 Proposition 98 would be provided to support a COLA for COEs, which are already funded at their LCFF target.
The additional funding for the third year of LCFF implementation represents 32 percent of the remaining gap needed to fund LCFF at full implementation for school districts and charter schools.
The Department of Finance continues to project that LCFF target funding levels for school districts and charter schools will be fully funded at fiscal year 2020–21.
Teacher Preparation
The Governor's Budget proposes to provide $10 million, over a two-year period, to the Commission on Teacher Credentialing (CTC) for the purpose of strengthening its administration of preparation programs and processes, candidate assessments, and induction.
To address strengthening administration of preparation programs and processes, the proposal provides $5 million to the CTC to convene an Accreditation Advisory Panel to provide recommendations on: streamlining teacher preparation standards; enhancing existing data systems and developing new data systems to organize and retrieve information from assessments and program surveys; developing candidate and employer surveys on the nature and quality of preparation; and increasing transparency and access to information about the quality and effectiveness of educator preparation programs.
The Governor's proposal also provides $5 million to the CTC to update the Teacher Performance Assessment and develop an Administrator Performance Assessment.
Finally, the proposal directs the CTC to evaluate the current induction requirements on districts and new teachers and identify options for streamlining and reforming beginning teacher induction.
Adult Education
The Governor's Budget proposes to provide $500 million in Proposition 98 for the Adult Education Block Grant (funding resides within the Community College Budget Item). The allocation of funds will be jointly approved by the Chancellor of the Community Colleges (Chancellor) and the State Superintendent of Public Instruction (SSPI), with an emphasis on providing funding to those regions with the greatest adult education needs.
The proposal requires each local consortium to designate an allocation board responsible for planning and allocating block grant funds. Each allocation board will consist of seven members who represent community colleges, K–12 districts, other adult education providers, workforce investment boards, county social services departments, correctional rehabilitation programs, and one public member with relevant expertise. Each local consortium would be required to submit an annual report to the Chancellor and the SSPI on the progress of fulfilling its adult education plan using all available resources.
In the budget year, the funding would be directly provided to K–12 districts in the amount of the district's maintenance of effort for adult education (estimated to be $300–$350 million). The allocation of the funds would be jointly approved by the SSPI and Chancellor. Remaining funds would be allocated according to the local allocation committees.
Career Technical Education
The Governor's Budget proposes $250 million in one-time Proposition 98 funding in each of the next three years to support a transitional Career Technical Education (CTE) Incentive Grant Program. These funds are intended to accelerate development of new and expanded high-quality CTE programs, providing opportunities for program growth over the next three years, pending full implementation of LCFF.
The proposal specifies prerequisites that must be demonstrated to be considered for a grant award, including: a dollar-for-dollar match for grant funds; a demonstration of continued commitment to fund CTE programs when the grant funds expire; and meeting numerous minimum eligibility standards. Priority in funding grant applications would be given to applicants that leverage other CTE resources, engage in regional collaboration with other local educational agencies or postsecondary institutions, and display significant investment in CTE infrastructure and equipment. Continued funding eligibility would be contingent upon demonstrating positive results across a spectrum of outcome measures.
Early Education
The Governor's Budget proposal provides $2.1 billion for child development and early education programs ($913.7 million non-Proposition 98 and $565.2 million federal funds). The proposal also includes $656.8 million Proposition 98 for State Preschool.
The proposed funding provides an increase of $14.8 million Proposition 98 and $18.8 million non-Proposition 98 General Fund to fully fund the 4,000 State Preschool slots with full-day wraparound care for the 2015–16 year and an increase of $33.5 million non-Proposition 98 General Fund to annualize full-year funding of the Regional Market Rate.
In addition, the Governor's budget provides case load adjustments to State 2 and 3, allowing for the decrease of $11.6 million non-Proposition 98 to reflect a decrease in the in the number of Cal WORKs Stage 2 cases and the increase of $38.6 million non-Proposition 98 to reflect an increase in the number of Cal WORKs Stage 3 cases.
Facilities
The Governor's Budget proposes recommendations for the design of a new facilities program with the intent to advance the dialogue on the future of school facilities funding. The recommendations include an increase tools for local control by: expanding local funding capacity by increasing the caps on local bonded indebtedness by the rate of inflation; restructuring developer fees; and expanding allowable uses of routine restricted maintenance funding. State funding for districts should target those most in need.
Additionally, the budget augments the Charter School Facility Grant Program by lowering the free or reduced-priced meal requirement to 55 percent (the concentration grant threshold under the LCFF) and providing additional funding to support program expansion.
The budget also provides $273.4 million of one-time Proposition 98 to the Emergency Repair Program. This funding will retire the state's facilities funding obligation under the terms of the Williams lawsuit settlement agreement.
State Special Schools
The Governor's Budget includes funding based on the 2015 Five-Year Infrastructure Plan. The Plan proposes a total of $90.5 million non-Proposition 98 General Fund for State Special Schools over the next five years. This includes $1.7 million in 2015–16 to build a middle school activity center at the Fremont School for the Deaf and $3 million in 2015–16 to address critical deferred maintenance over the next two years.
Proposition 39: California Clean Energy Jobs Act
The Governor's Budget proposes $368 million (Proposition 98) for energy projects under Proposition 39, the California Clean Energy Jobs Act. The amount of $320.1 million will go to K–12 and $39.6 million to community college districts for energy efficiency project grants and $5.3 million to the California Conservation Corps to provide technical assistance to K–12 school districts. Additionally, $3 million will go to the Workforce Investment Board to implement the job-training program.
Technology Infrastructure
The Governor's Budget proposes $100 million in one-time Proposition 98 funding to support additional investments in local internet connectivity and infrastructure for schools that have limited internet capacity.
What's Next?
The Governor's Budget proposal contains significant proposals that will undoubtedly be the subject of debate and discussions throughout the spring. The deadline for final legislative action on the budget is June 15. The budget takes effect on July 1, 2015.
If you have any questions regarding the 2015–16 Governor's Budget, please contact the Government Affairs Division by phone at 916-319-0821. You may also contact Monique Ramos, Director, Government Affairs Division, by e-mail at mramos@cde.ca.gov.
Sincerely,
Tom Torlakson
TT:atp
NOTICE: The guidance in this letter is not binding on local educational agencies or other entities. Except for the statutes, regulations, and court decisions that are referenced herein, this letter is exemplary, and compliance with it is not mandatory. (See Education Code Section 33308.5.)
Last Reviewed: Tuesday, September 27, 2016
Recently Posted in Reports
2017-18 Annual 3-Year Fed Fund Expenditure Report (added 12-Mar-2018)
Report identifying expenditure information for each of the CDE's federally funded programs. Which includes (1) actual prior year expenditures as of June 30, (2) revised estimate of current year expenditures, and (3) the budget year appropriation.