The Athenian School Green Ribbon Selectee
---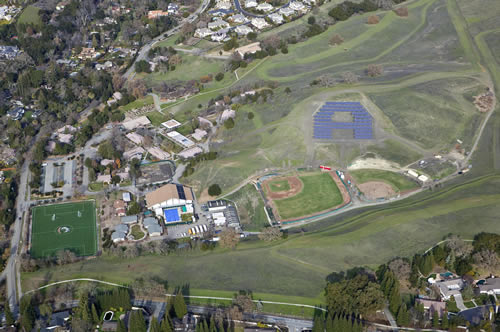 At this private northern California school, solar panels generate 70 percent of the campus' energy. Behavioral changes, conservation activities, and retrofits to existing buildings have allowed the school to achieve a 48 percent energy reduction, and divert 50 percent of its waste to recycling. Principles of environmental stewardship guide all aspects of academics, operations, food service, building, and maintenance policy. Eleventh grade students participate in the Athenian Wilderness Experience, which is 26 consecutive days of hiking, climbing, and camping in Death Valley while using Leave No Trace practices. Students prepare for this major trek with outdoor activities of shorter, age-appropriate duration by hiking and camping in various state and national parks. Students learn permaculture garden techniques, produce school bus biodiesel fuel in their science labs, work to convert a car to electric power, harvest and press olives, construct an aircraft, and design robotics. The school offers close to 100 percent organic foods, and provides fresh fruit all day as snacks. Faculty and staff can take a weekly yoga class.
Application

(PDF)
Last Reviewed: Friday, July 16, 2021
Trending in School Facilities
Recently Posted in School Facilities
No items posted in the last 60 days.