Jefferson Elementary
---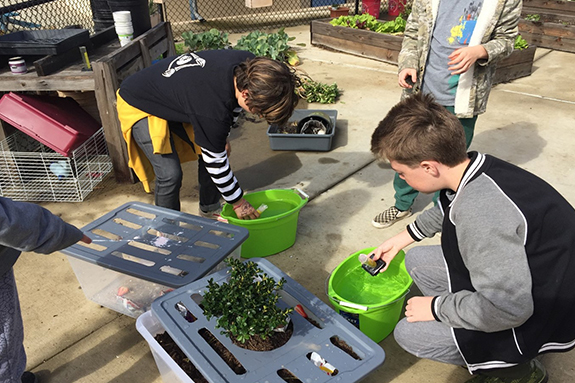 Jefferson Elementary (Jefferson) is an accredited International Baccalaureate school serving students from transitional kindergarten through fifth grade in the Carlsbad Unified School District (CUSD). Through a CUSD school board-approved Facility Master Plan, Jefferson replaced heating, cooling, lighting, and water systems to increase efficiency. The school also planted drought-tolerant landscaping to reduce water use and installed a water bottle filling station for students and staff to cut down on the use of plastic. In 2019, Jefferson began participating in the Sage Garden Project to support the school in forming its four gardens and garden/nutrition program. The program provides students with weekly nutrition and cooking classes using ingredients from the garden to deepen their understanding of healthy food choices and the science and math of cooking. The school encourages higher fitness levels in its community by starting each day with students, staff, and parents leading a Workout of the Day, which could include yoga, cardio pump, calisthenics, high-intensity interval training, dance, or Zumba activities. Jefferson students apply to be Playground Partners and CUSD Champions Leadership members to promote inclusiveness and peace on the playground during unstructured times. Jefferson develops effective environmental and sustainability education through the International Baccalaureate Primary Years Programme (IB PYP) and project-based, hands-on learning. All students participate in IB PYP units centered around California's Next Generation Science Standards Environmental Principles and Concepts. Students in the school's Storm Water Pollution Prevention Program Internship study the effect of stormwater pollutants from the school site on the local waterways and develop educational and structural solutions to reduce pollutants entering storm drains.
Application

(PDF)
Back to 2023 National Green Ribbon Selectees
Last Reviewed: Friday, April 21, 2023
Trending in School Facilities
Recently Posted in School Facilities
No items posted in the last 60 days.