Katella High School
---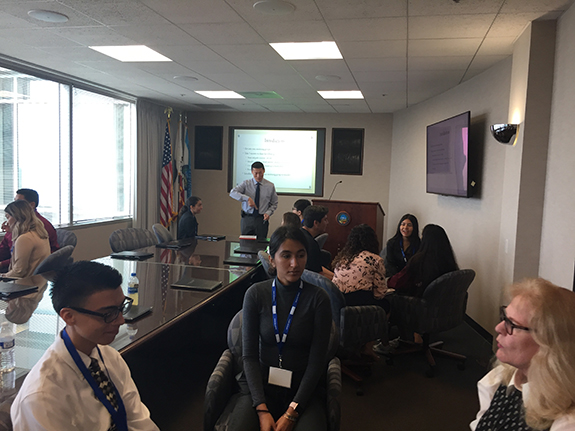 Katella High School (KHS) models and educates students about the importance of being stewards of their environment through site improvements and educational programs. The KHS Sustainable Garden and Learning Center serves as a place to extend teaching and learning in context with hands-on activities. Science courses use the site for lab experiments in soil quality testing, seed germination, and the water cycle. KHS connects students with green careers by partnering with Anaheim's Innovative Mentoring Experience (AIME) Program and the City of Anaheim Public Utilities. Mentors work with students to inform and prepare them for what is needed to work for the City of Anaheim in various green careers such as urban planning, electrical engineering for energy conservation, water conservation strategies, and waste management. In 2016, KHS was a recipient of the state's Drought Response Outreach Program for Schools (DROPS) grant. The work funded by the grant established KHS as a water reclamation site designed to collect, filter, and recycle water from storms, irrigation, and clean-up. In addition, the campus landscape was upgraded to native plant species, drought-tolerant shrubs, trees, vegetative bioswales, and sanded pathways. The school's "Katella Talks" program provides all students the opportunity to conduct research, create a speech, and present on a subject of their choice. Fellow students judge the "talks" for selection to be recorded and put on YouTube. Since the program's beginning in 2015, there has been a significant increase in talks that focus on environmental issues and sustainability, including human population growth, climate change, and recycling.
Application

(PDF)
Last Reviewed: Monday, May 2, 2022
Trending in School Facilities
Recently Posted in School Facilities
St. Martin of Tours Academy (added 02-May-2022)
This page contains information on St. Martin of Tours Academy the 2022 Green Ribbon Selectee.