Moreno Valley Unified School District
---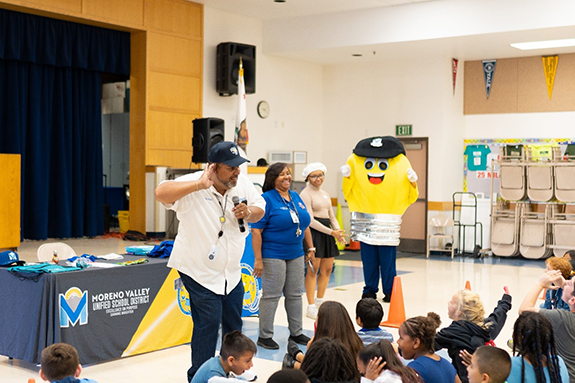 Moreno Valley Unified School District (MVUSD) resides 60 miles east of Los Angeles, serving over 31,500 students in pre-kindergarten through twelfth grades. In 2020, MVUSD created an Energy Specialist Manager (ESM) position responsible for optimizing the use of Heating, Ventilation, and Air Conditioning (HVAC), irrigation, and other energy-using systems. The ESM also connects with every school and teacher to share energy conservation, health/wellness, and educational resources. MVUSD's Transportation Department transitioned its fleet of diesel buses to electric and responsible fuels, including 42 electric school buses, 28 Compressed Natural Gas buses, and 31 propane buses. MVUSD uses funding from the United States Department of Agriculture (USDA) Department of Defense Fresh Fruit and Vegetable Program to provide elementary school students with additional fresh fruits and vegetables as a snack outside regular meal service. In 2021, the Anti-Bullying Club (ABC) at Canyon Springs High School received state recognition with a California School Boards Association Golden Bell Award for its outstanding impact across the school campus and community. During the pandemic, ABC spread bullying prevention awareness through videos and social media kindness projects. North Ridge Elementary features the Model Environmental Science Area (MESA), where students learn about healthy eating, botany, and wildlife. In 2018, MVUSD introduced the Junior Scholars Program as part of a mandatory curriculum for middle school students, including a semester where students propose solutions to real-world problems. Past projects investigated pollution in the ocean, climate change, and environmental degradation.
Application

(PDF)
Back to 2023 National Green Ribbon Selectees
Last Reviewed: Friday, April 21, 2023
Trending in School Facilities
Recently Posted in School Facilities
No items posted in the last 60 days.