St. James Academy ED-GRS Selectee
---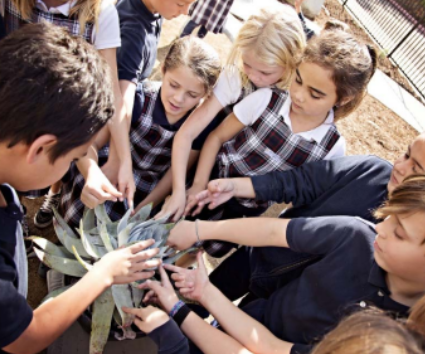 In 2016, LED lights were installed throughout the Saint James campus, replacing all overhead fluorescent lighting. In 2017, rooftop solar was added, providing 98 percent of the school's electricity onsite. St. James has opted to purchase excess electricity from the Solana Energy Alliance under a 50% renewable and 75% greenhouse gas-free plan. Based on St. James' clean energy commitment, Electrify America/Greenlots recently selected St. James for the installation of five dual 240 volt electric vehicle charging stations, one of which is accessible, at no cost ($75,000 value). Landscaped green spaces are drought tolerant, and the grounds include a 1,500-square-foot edible organic garden, a 3,400-square-foot green schoolyard and outdoor classroom, and an 1,800-square-foot tree-shaded patio. The only grass maintained on campus is the athletic field used for physical education and sports. Fifth grade attends an overnight trip on the Star of India, the world's oldest active sailing ship, to study ocean ecology, the night sky, mariner navigation, and all aspects of crewing a large ship. Sixth grade spends three days at AstroCamp, an outdoor science school focused on exploring the universe through hands-on experimental science, astronomy labs, physical science labs, and field science. Grades 7–8 attend a three-day retreat that includes sunrise hikes and outdoor games, and where spirituality and healthy relationships are explored.
Completed Application

(PDF) for Saint James Academy.
Last Reviewed: Tuesday, May 24, 2022
Trending in School Facilities
Recently Posted in School Facilities
No items posted in the last 60 days.